Ask the experts
Here is a selection of Q&As from Your Berks, Bucks and Oxon Wedding magazine. If you would like your question answered by our experts, please email it to editor@yourberksbucksoxon.wedding.
To view more Q&A's on a different topic, please select one from the list below.
Hot topic: Behind-the-scenes real wedding special
A dream team of local experts show us how they helped tie it altogether for Sophie and Aaron's fabulous summer wedding
---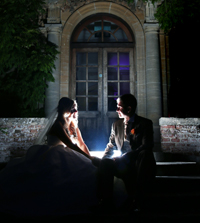 Setting the scene
Q. How did you find capturing Sophie and Aaron's special day?
A. Emma Brooks says: From the first time I met Sophie and Aaron I knew their big day was going to be an absolute pleasure to capture. The great thing about Horwood House is its stunning character, particularly with the iron bay windows. There's so much natural daylight, which is a photographers dream, and a beautiful backdrop too; you're guaranteed some great shots whether you have the ceremony inside or out.

My style is very unobtrusive, and I aim to capture the day as it unfolds in a modern and discreet way. The drinks reception in the sunshine was a great opportunity to snap the happy couple celebrating with their guests, and we also took a walk around the beautiful grounds to give Sophie and Aaron a few moments together while I was able to capture some romantic shots before they joined the guests for the wedding breakfast..
---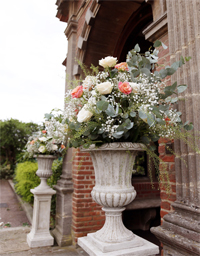 In bloom
Q. Which flowers did you choose to satisfy Sophie's subtle floral request?
A. Georgianna Gillings says: Sophie was looking for neutral tones with a pop of colour for her wedding flowers. She decided on the romantic style of the cascading teardrop bouquet for herself and hand tied bouquets for the bridesmaids. We selected beautiful big blooms of ivory avalanche roses, delicate white gypsophila, ruffly white lisianthus and gorgeous Miss Piggy two toned roses for the bright coral pinky hues. The men's buttonholes were simple roses and decorative foliage, complementing Sophie's bouquet, as did the floral spray for the ceremony.

I had the pleasure of creating large floral arrangements in urns either side of the entrance, setting the scene perfectly. Foliage and stems of flowers were also supplied for the wedding cake.
---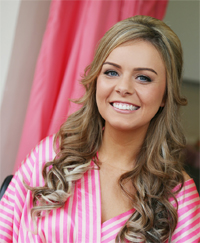 Natural complements
Q. How did you achieve that classic blushing bride look for Sophie on the big day?
A. Sarah Evans says: Sophie wanted her make-up to look fresh and natural. She asked for her eyes to stand out and for her skin to have that natural bridal glow. During the trial we also spoke about Sophie's dress and the colour scheme planned for the big day. It's always important to complement the make up with these.

Her skin was primed, concealed and finished with various products from Smashbox, MAC, and Bobbi Brown. On the eyes I used Urban Decay Naked 3 Palette, a favourite of mine, but also teamed it up with Bobbi Brown's long-wear cream eye shadow in Brown Metal to give the lid a gorgeous shimmer. We finished off the eyes with a white kohl pencil for freshness, and a black liquid liner with some natural false eyelashes. We tried coral on the lips but Sophie decided to go with the fresh cool tone of pink, which perfectly matched with her cheeks. What a blushing, beautiful bride she made!
---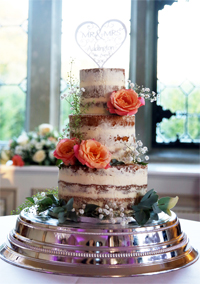 A piece of cake
Q. What was Sophie and Aaron's idea of the perfect wedding cake?
A. Jamie Kalek says: Sophie first came to see me over a year before her wedding date, which is ideal to secure the date and have an initial chat. She knew she wanted a naked cake, which is really suited to sunny summer weddings.

A couple of months beforehand we went over the final details. Sophie and Aaron chose white chocolate and raspberry cake on the bottom and top tier, with vanilla for the middle.

I spoke to Georgianna about the flowers they were having, and collected a selection to decorate the cake with. Sophie and Aaron had bought a beautiful personalised cake topper, which I added upon delivery on the big day, after the wedding breakfast had been served. It was a treat to get a sneaky peek of the very happy couple!
---
Contact our experts...
Georgianna Gillings
Florist
Sarah Evans
Make-up artist
---