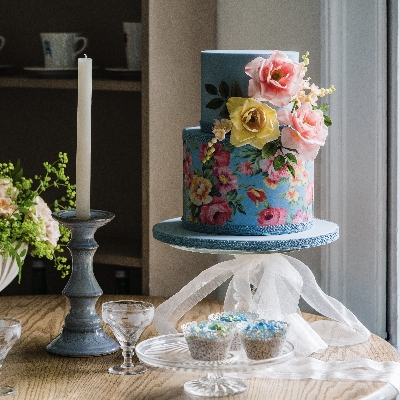 Icing on the cake
Q. We're having a micro wedding in the summer but still want a fabulous cake! It will only need to feed 15 guests so what do you suggest?
A. Lorna Sansom says: I have always preferred two-tier cakes like these pictured, and it's the smaller cakes that I love to make. It's simple to reduce the tiers down a size and a two-tier design comprised of a 15cm (6-inch) and a 10cm (4-inch) layer would feed 15 guests perfectly. If you have set your heart on a three-tier cake then I would suggest adding a dummy bottom tier which is just for show.

I prefer to use sugar flowers rather than fresh ones on a wedding cake because they can be made in the ideal shade and size, and will keep long past the wedding day. If you decide to have a party later on when restrictions have lifted, you can reuse the flowers.

At a larger wedding, many guests won't even notice the cake so the good news is that, with only 15 guests, they'll all get to see it. Rather than positioning it in a corner somewhere, think about incorporating the cake into your tablescape and make it a real feature. Choose your stand carefully, one with a tall, slender stem decorated with climbing flowers or chiffon ribbon would look wonderful topped with a small cake. Above all, make sure that everything is colour-coordinated.
Lorna Sansom, Sweet Marguerite Cakes
www.sweetmargueritecakes.co.uk