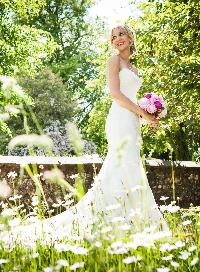 Seasonal wisdom
Q. We're planning an autumn wedding, and we'd like our day to reflect the time of year – what do we need to keep in mind?
A. Audrey says: Autumn is a beautiful time to get married. As with planning any wedding, it is the details that matter most. First, pick a great location, and make sure it has both indoor and outdoor options, as the weather in autumn can be unpredictable. Have wellies and umbrellas available, as well as warm wraps in case the evening gets a little chilly.

Venues such as vineyards, converted barns and country manors are all perfect choices. Find picturesque grounds to capture the stunning autumnal colours, and choose a theme to complement the season. Rustic browns and rich reds all work great in this season, but also try to incorporate seasonal accessories. Toffee apple favours, pumpkin-inspired centrepieces, lanterns, hay bale seating – these are just a few ideas.
Audrey,Sapphire Weddings and Events