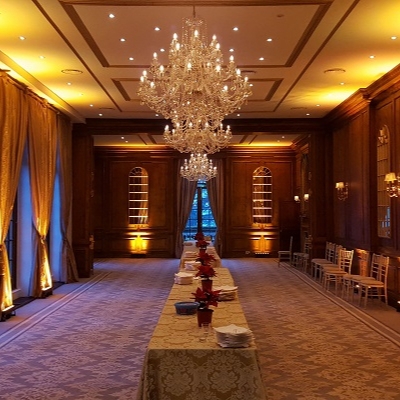 A class act
Q. What exactly is wedding production and how important is it?
A. Michelle Thompson says: Wedding production has a vital role to play throughout the day, however, this sensory service can be overlooked, misunderstood and forgotten in the grand scheme of things. With the initial rush of booking the venue, photographer and all of the beautiful details, production is often looked upon as a PA system for speeches and a disco with flashing lights combined with a generic playlist when it's much more than that. A good production company will invite you to provide information on many areas where enhancement and improvement can be made, for example:

- Is your wedding a black-tie affair? If so, you may like to greet guests with the red carpet treatment which will also serve well in the evening for photo opportunities.

- Is your ceremony inside or outdoors? If it's taking place outside, carpet aisle runners will ensure that your dress is kept pristine for the ceremony.

- Is your ceremony during the winter? You may want subtle up-lighting to enhance the beauty of the venue if the day is overcast. A church will look stunning in the glow of candles.

- Would you prefer a PA system for your ceremony, drinks reception and wedding breakfast? The background music of your choice is equal to live music and can be played from your device which gives you full control and is a budget-friendly option.

- Do you want live music but the venue has poor acoustics? A discreet PA system will enhance the sound and may be able to be repurposed during the day.

- Are you both party people? Your DJ and band will elevate their performance on a low stage, creating excitement and buzz.

- Which lighting colours do you choose for the evening? The wow factor is gained from using colours predominantly from the blue palette such as combinations containing blue, purple or fuchsia – don't pick green or yellow which aren't flattering.

- Make your cake a real statement piece. Spotlighting the cake uplifts it - why not cut it on the dancefloor and use the spotlights for your first dance?

- Do you want a bespoke playlist? Every disco is different and so is the music. Your first dance, special family dances along with different styles and eras can be accommodated.

- We can also provide large illuminated LOVE letters, band-effect and architectural lighting plus canopy and festoon up-lighters which can be placed anywhere.

Our event planning team can guide you through the entire process painlessly. The trick to providing great production is to listen to those who have the vision. Just by telling us a few details, we can put together a suitable package to complement your timings, budget and style. Our team focuses on the details where production will make a difference. If your budget is tight then a village hall can be transformed - the cost of an up-lighter in your chosen colours will work wonders.
Michelle Thompson, Class Act
www.classact.co