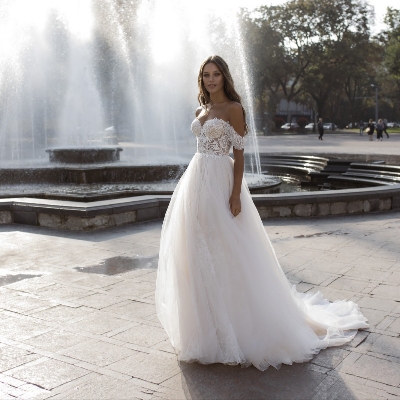 New beginnings
Q. I am newly engaged and excited about planning my wedding for 2021. What should I expect when visiting a bridal dress boutique for the first time? Also, is there a maximum number of people that I can bring along with me?
A. Rhian Jenkins says: MEET THE EXPERT: Rhian Jenkins is the director and consultant at New Beginnings Bridal Boutique, a five-star rated, multiaward- winning, family-run business based in Newport Pagnell offering affordable luxury and an unbeatable experience.

Rhian says: Firstly, congratulations on your engagement! This is such an exciting time, and shopping for your dream dress should be a fun process. Each boutique is different so do your research before booking an appointment.

We have plenty of experience dealing with every type of bride, from those who know exactly what they want to women who don't have an idea when they first come to visit us. We have had some customers who have been very body-conscious and were terrified of trying dresses on and we know exactly how to put them at ease. We take a very relaxed approach and will have a chat with you at the start of your appointment to find out what venue and theme you're planning for your wedding and what you think you might like in a dress.

The first style we will put you in will be one that matches your idea of a dream gown but be prepared because more often than not, brides fall in love with something completely different than what they were expecting to!

As we continue with your appointment, we will ask you lots of questions about how you look and feel in each dress that you try on. We have over 190 styles in our boutique in a wide variety of styles to suit everyone.

Brides often ask us about what underwear they should bring to their appointment and we always suggest nude underwear and a strapless bra. If you don't have this, don't worry too much because we can make almost any underwear work, but do try to stay away from very dark or bright colours.

Finding your wedding dress is a special moment and we know that brides want to share this with people close to them but be careful not to bring too many along to your first appointment to avoid having too many opinions. We don't have an official limit on the number of people you can bring although we recommend no more than three or four guests. Please note, at the moment we are adhering to the current government guidelines and are allowing the bride and two guests maximum at the time of going to press, please check this with us when booking an appointment.

Finally, relax and enjoy the experience, making sure that you take in every moment, and trust your consultant to do their job of finding the perfect dress for you.
Rhian Jenkins, New Beginnings Bridal Boutique
www.newbeginningsmk.co.uk