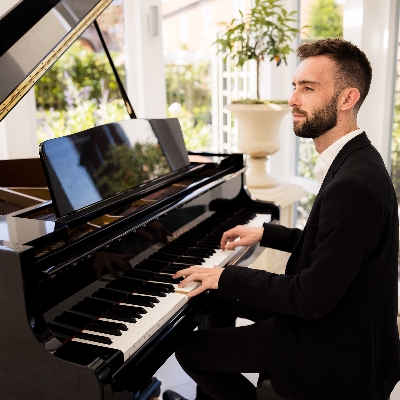 Sounds of summer
Q. We're planning an intimate summer celebration and want to entertain our guests with a live musician, what can you suggest?
A. Lewis Bolland says: A pianist is a fantastic choice for a small wedding. The piano produces a warm, welcoming sound that greets guests, and is a romantic choice as you walk down the aisle. Wedding music should be subtle, elegant and flow on the day. Your song choice, especially for the ceremony, doesn't have to be a traditional or classical piece, it can be a modern pop, dance or rock track, or a favourite song from a soundtrack. I always prepare an arrangement of a couple's chosen piece to be around one-and-a-half minutes long so if requesting a song, ensure that you communicate what your favourite parts of the track are with your performer beforehand.

During the drinks reception and wedding breakfast, I would suggest that the pianist plays well-known pop, rock and traditional tracks for everyone to enjoy. A playlist to cover all tastes is important. If live music isn't required throughout the reception then I'd recommend preparing a playlist of your favourite songs that mean something to you both. Spotify and Apple Music have some great wedding playlists.

In the evening, you might want to book a DJ or a band to get guests dancing, but there's nothing like a live performance at this point in the celebration. Having a pianist play your favourite song for your first dance as everyone looks on is a special way to end your big day!
Lewis Bolland, Lewis Bolland Music
www.facebook.com/lewisbollandmusic