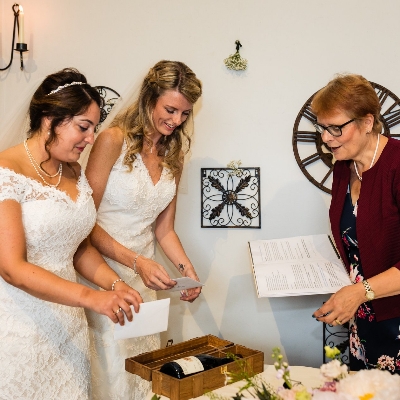 Ceremini
Q. Since the singer Ariana Grande recently married at home, it has coined the term 'ceremini' with demand for intimate weddings rising. Are you able to give me some ceremony ideas that are perfect for small, intimate weddings?
A. Lynn Tiereney says: Having a small and intimate wedding offers many opportunities to embrace romance and emotion – here are some meaningful examples.

Hand-fasting ceremony
Think Mel Gibson in Braveheart kneeling on a woodland ground, just a couple in love and their celebrant... well, maybe you wouldn't want to be kneeling, but you get the idea! Hands are held together and bound with each couple's own special cords as they make their vows.

Love letters in a box
A couple can write a love letter to one another, telling each other why they fell in love, what they still love about them and what each other's future hopes and dreams are. The sealed letters are placed inside a box to be opened and enjoyed on a future anniversary.

Love lock
There are bridges all over the world where lovers have placed their padlocks and thrown away the keys. Couples can find a spot in their garden, or a sentimental place to them, to attach their padlocks as they speak their vows, locking the love.

Personal vows or special poems
Imagine declaring personal vows, or a sentimental poem, in an intimate setting. Partners can share special words, written from the heart and committing to a future with the person who loves them the most in the world.

Loving cup
Consider sharing a quaich (which is a two-handled drinking cup) for the first toast. Couples can hold the cup between them taking three sips each - the first to toast the love that brought them together, the second for the love they celebrate on the day and the third for the love that carries them into their future.
Lynn Tiereney, Lynn Tierney Ceremonies
www.lynntierneyceremonies.co.uk