Ask the experts
Here is a selection of Q&As from Your Berks, Bucks and Oxon Wedding magazine. If you would like your question answered by our experts, please email it to editor@yourberksbucksoxon.wedding.
To view more Q&A's on a different topic, please select one from the list below.
Hot topic: 2017 Weddings
Local experts advise on upcoming trends
---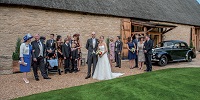 Act naturally
Q. We can't decide on the type of photography we want for our big day and are really at a loose end. What trends are going to be big for 2017?
A. Graham Lee says: A natural, unobtrusive and relaxed photographic style is becoming an increasingly important criteria for couples. Couples will be looking for a blend of images that capture the emotion of each moment, combined with beautiful candid shots of family and friends, along with fun and natural group shots, topped off with stunning bride and groom portraits that are not too posed. There's also a move towards having favourite photos displayed in digitally designed wedding albums that preserve the special day for not only yourselves but for your family in years to come.
---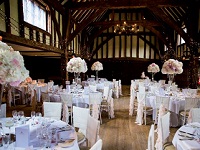 The New Romantic
Q. We want our big day next year to look really cool; what's on-trend for 2017 when it comes to styling the venue and theming our overall look?
A. Linda Brooker says: Romantic elegance with a modern twist is set to pave the way into 2017. Classical looks such as silver candelabra, big tall glass vase centrepieces and large urns of flowers are making a comeback but with a new take on modern design. Big is best with flower displays going large – arrangements are dome, using big, blousy flowers to create neat smooth lines and minimal to no greenery. 'Wedluxe' glamour will continue to be a hot favourite – crystals and pearls will be dripping from centrepieces, scattered onto tables and embellishing wedding stationery. Candles and lighting will be huge – tables will be filled with an eclectic range of candle holders, floating candles and tealight votives to create a soft, romantic atmosphere, with lanterns and hurricane lamps used to edge staircases and pathways.
---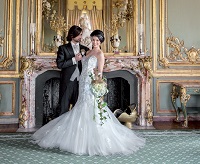 Flowers of romance
Q. I'd like an alternative bouquet for my nuptials – what designs do you predict are going to be hot for 2017?
A. Sarah Dodson says: The traditional shower bouquet is going to be a popular choice for bridal bouquets in 2017 with a lot of brides opting for this design over the ever popular hand-tied style. A great alternative to the traditional shower is a more contemporary hand-tied cascade bouquet. Flowers can be grouped for a modern look or mixed for a more traditional effect, and trails of flowers, foliage, leaves or ribbon are added to create the cascade. Soft grey is becoming a popular choice with flowers being chosen in soft, pastel colours such as pink, peach, lemon and pale blue. Another strong colour theme coming through is pure gold, so try lots of crisp white flowers and dark green foliage with gold containers and accessories.
---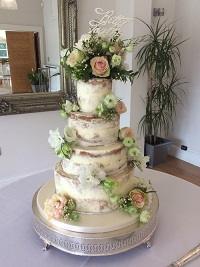 Just eat
Q. My partner and I are out of ideas for our wedding cake; we don't have a theme or colour scheme and just want it to have the wow factor. What 2017 trend do you think with would work for our cake?
A. Catherine Scott says: If you're not looking for your wedding cake to co-ordinate with a particular theme or colour scheme then I'd suggest opting for taste over everything else. Why not go for a striking chocolate centrepiece or a rustic naked or semi naked wedding cake, decorated with fresh fruit or flowers, this is a popular natural look that blends in with most styles of weddings. Choose a cake maker that offers different flavoured tiers and opt for something unusual rather than the run-of-the-mill jam sponge – it is a wedding after all, so make it special, perhaps choose a champagne sponge or decadent ganache filled chocolate cake. Your cake will then wow your guests both by looking and tasting delicious – then carefully choose when to serve it, making sure it becomes part of the food of the day, that way it will all be eaten meaning you'll get the best value for money from it too!
---
Contact our experts...
Catherine Scott
Cake maker
---