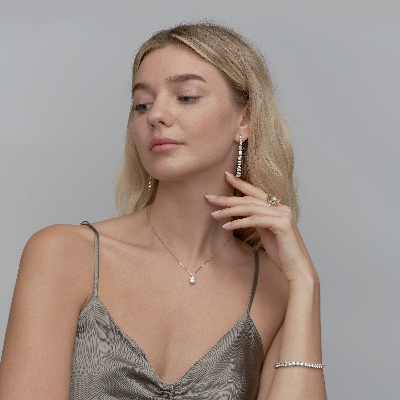 Diamonds are a girl's best friend
Q. Please can you give me some ideas for my bridal jewellery? Should my bridesmaids wear matching items? How about my mum?
A. Alison Cooper says: Choosing jewellery for your wedding is exciting but what works best? For brides, the pieces will be treasured for a lifetime, so it needs some careful consideration. Diamonds are a popular choice for this reason because it's the stone that famously represents forever.

Picking jewellery that complements your wedding dress, rather than competes with it, is the best idea. Bear in mind the design of the gown, for example, off-the-shoulder dresses look wonderful teamed with a pair of statement or drop earrings whereas simple studs tend to compliment high-neck designs. Wrist jewellery can distract from the ring, so a simple timeless tennis bracelet or delicate bangle paired with a classic pair of studs or diamond drop earrings can work well.

Aquamarine gemstones are another option, thought to bring happiness to marriages and good fortune to the woman who wears them. They were traditionally considered as a gift for the groom to give to his bride on the morning of their wedding. The pale blue colour of an aquamarine gemstone is subtle enough that it won't distract from the wedding dress. An aquamarine pendant, ring or pair of earrings also add that special something blue.

Bridesmaids
Thank your bride tribe with personalised jewellery engraved with a message. Remember to tailor designs to complement their dresses and tastes, and to complement their dresses. You could choose precious gemstone jewellery to match the colour of the bridesmaids' dresses. Consider gifting your bridesmaids the same piece so that they match, or opt for similar styles based on a theme. Our delicate butterfly rings are perfect for bridesmaids and can be customised with each of your best girls' birthstones. This creates a uniform look that they can all wear on the special day but one that is still unique and personal to them.

Mother-of-the-bride
A wedding isn't just a monumental day for the couple, it's also a hugely special day in a mother's life. We suggest for mothers to steer clear of colourful statement jewellery and instead opt for classic, elegant pieces like a tailor-made diamond pendant necklace or a delicate toggle bracelet.
Alison Cooper, Alicia J Limited
www.aliciajdiamonds.com