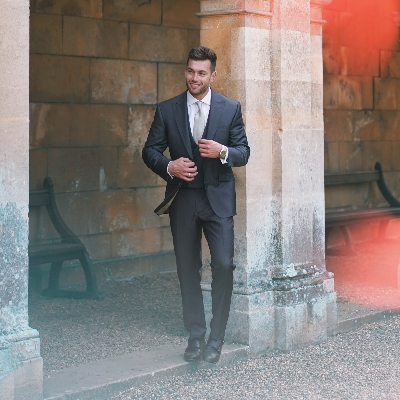 Suited and booted
Q. My groom-to-be wants something a bit different and super-stylish for our wedding. Where should he shop?
A. Dean Anderson says: Whether it's a James Bond-inspired tuxedo or stylish three-piece suit, grooms want to feel comfortable and confident on their wedding day. That goes for the fathers and groomsmen, too. They can all wear versions of the same suit to keep everyone in unison, but with slight variations to show their personal style.

You'd be surprised with how much versatility you can get out of one durable suit and with 67 different fabric combinations to choose from, you're spoilt for choice. When temperatures soar, remain cool and composed at a summer wedding in a lightweight tailored suit – you can buy a summer-weight suit even in winter!

It's important to look smart even when you remove your jacket so choose beautiful accompaniments such as matching waistcoats, fitted shirts with embroidered cuffs or even a bespoke jacket lining to complement the colour theme. Every garment can be personalised with a date and initials for that extra-special touch.

Here at Saint Crispin Bespoke Menswear, we make sure your high-quality suit fits impeccably while being 100 per cent individual for the biggest day of your life.
Dean Anderson, Saint Crispin Bepsoke Menswear
www.saintcrispin.co.uk