Amy and John met through work and became best friends. "The rest, as they say, is history!" Amy tells us. The couple became engaged during a few days away in Kent.
"We were staying in a beautiful woodland cottage cabin, the Woodcutters Cottage at Swallowtail Hill which Amy had booked as a surprise," John says. "She didn't expect me to propose by the campfire!" Amy adds, "John had set up his iPhone for what he told me was a timed photograph but actually it was a video and at the last minute, he got down on one knee so the moment was captured perfectly!"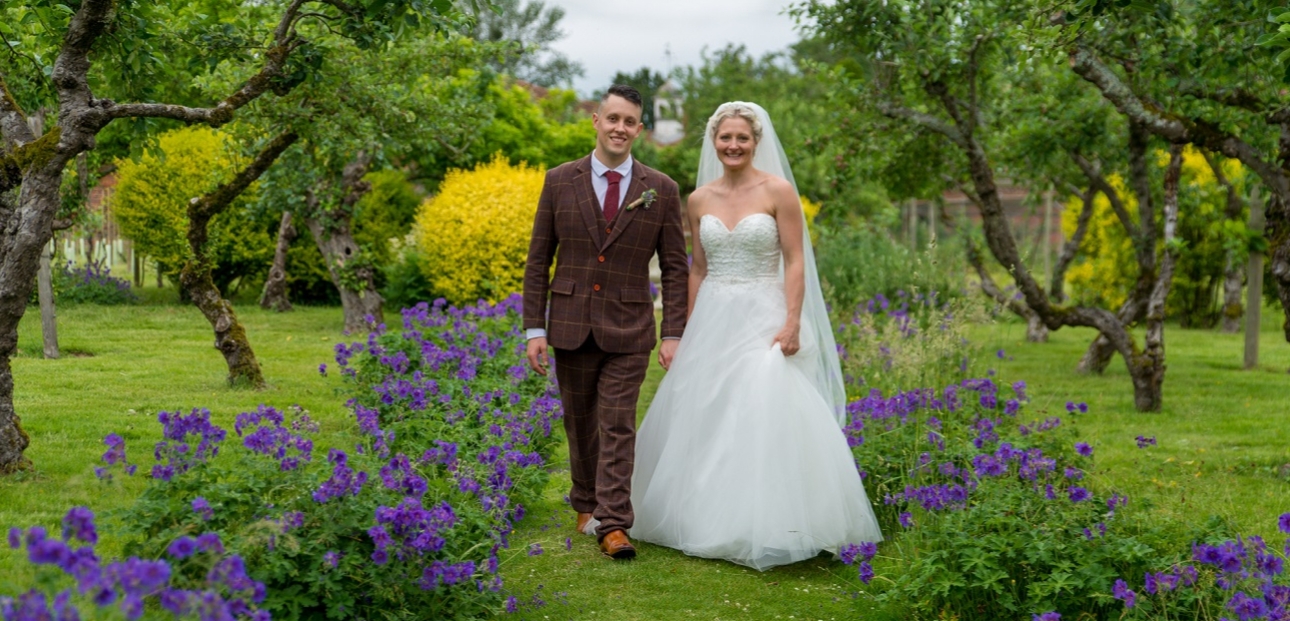 The couple chose to get married at Stanlake Park. "It oozed character and was a beautiful, local venue offering stunning scenery – it just felt like the one!" they tell us.

Their table names were after their family's dogs. "We wanted to involve our shared love of dogs in our wedding," they say.

"Our top table was called Bloodhound which is a breed that we have a special place in our heart for and wish to give a loving home to one day. On the tables, we displayed miniature easels showcasing the table names placed on log circles within the centrepieces."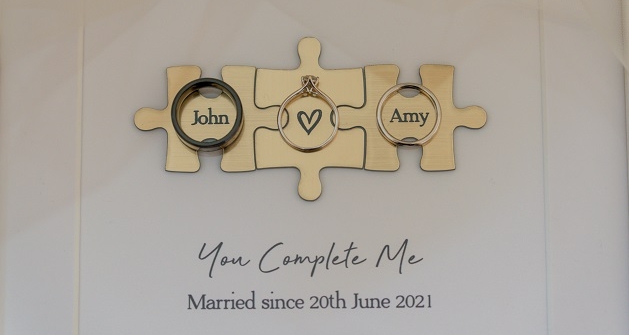 These centrepieces were handmade by the bridal party. The wooden logs were cuttings from a real tree topped with hand-decorated glass jars tied with a hessian ribbon holding a mixture of gypsophila, roses and homegrown sweet peas.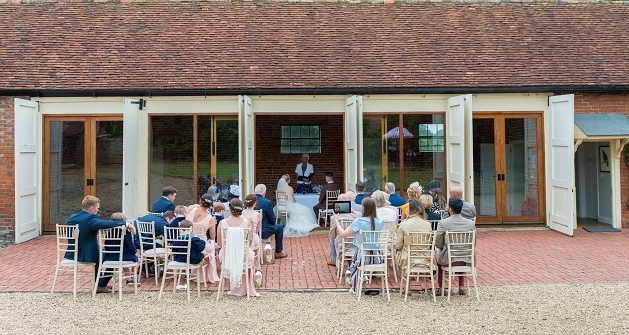 The place names were wooden scrabble tiles with each guest's first initial displayed on rustic brown craft paper with the remaining letters hand-stamped with an inked letter stamp. "Our table plan was a miniature wooden frame with twine string and wooden pegs holding each name," Amy tells us.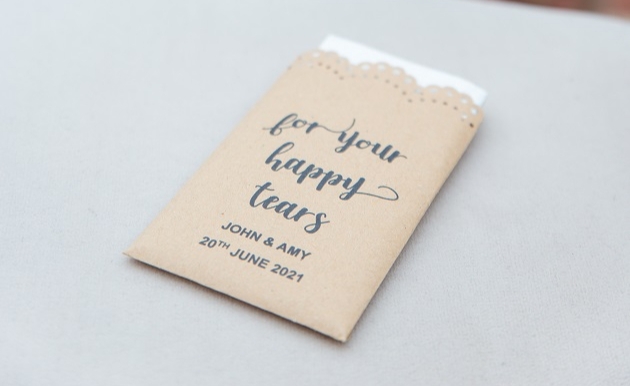 Amy and John chose wild seed hearts as their favours.

"We used heart-shaped seed paper with a thank you note written on each one," Amy describes.

"The hearts were designed to be planted and bloom into wildflowers that our guests could enjoy after our special day.

We also loved the idea of having something that the bees could enjoy too because my dad is a beekeeper."
Amy and John's choice of flowers enhanced their rustic theme.

"We had hand-tied bouquets for me, our bridesmaids and our flowergirl," Amy says.

"The bridal flowers consisted of roses, sweet peas, gypsophila and lavender all teamed with foliage.

Our bridesmaids carried posies containing roses and gypsophila while the flowergirl bouquet was made solely from gypsophila which we also wore in our hair."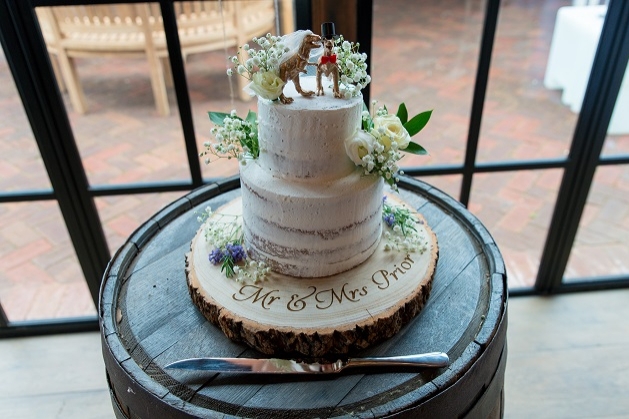 Amy and John chose a semi-naked red velvet and chocolate cake.

"It was decorated with matching flowers to those in the bouquets and buttonholes," Amy says.

"It was placed on a personalised wooden cake board and featured a cake topper handmade by us both."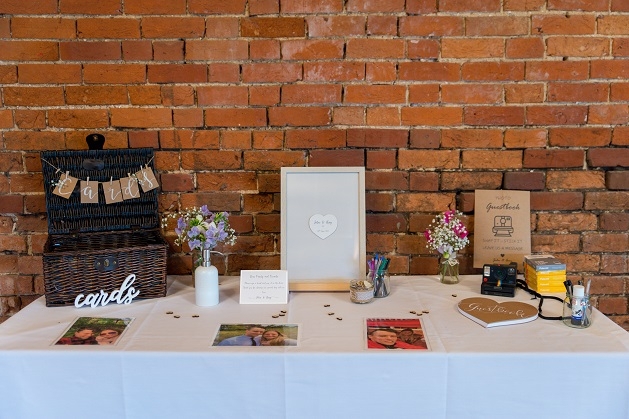 The couple decorated their venue with a white wooden shelf displaying illuminated A and J letters. "We also displayed photographs of us together along with a glass picture frame guest register that everybody could sign their names on wooden love hearts and post them into the frame," Amy tells us.

"A wicker picnic basket held congratulations cards and we also had a polaroid printer camera available for our loved ones to take photographs and stick them in an album with messages."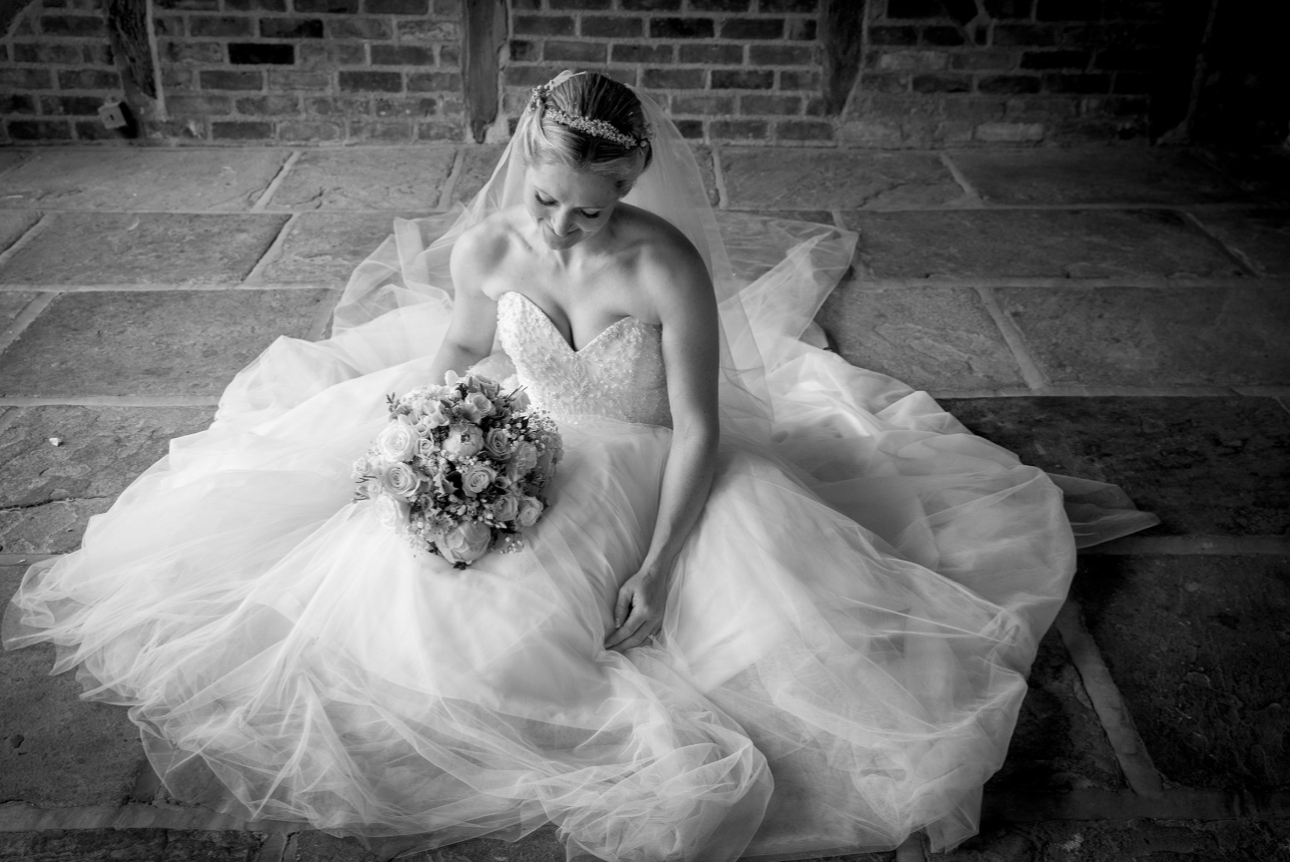 With the help of Mo at Sophie Grace Bridal and Amy's mum, Amy chose to wear a bespoke Gaia wedding dress.

"It was a strapless ballgown with a beautiful beaded bodice attached to a soft tulle skirt," Amy says.

"It was made even more special because it had a small heart-shaped piece of material from my mum's wedding dress sewn inside it.

I chose a simple pair of pearl earrings that I was given by my granny and uncle for my 21st birthday. I also wore a small pearl and diamanté tiara and a pair of elegant bridal shoes."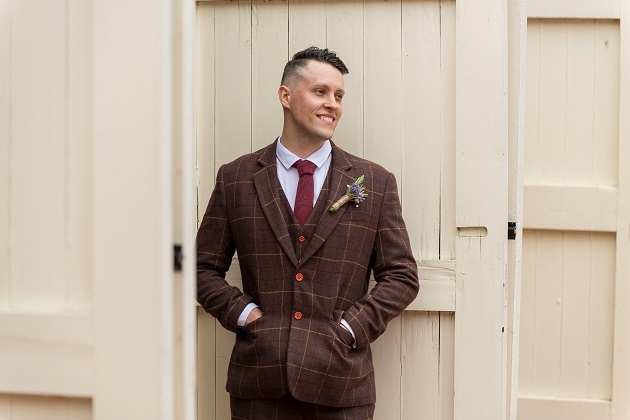 John wore a brown twill tweed three-piece suit with a burgundy tie and a buttonhole of lavender, rosemary, gypsophila and something special from the bridal bouquet bound in twine.

"He wore a pair of personalised cufflinks that I gifted him on the morning of our wedding," Amy says.

"He stood out from the rest of the groomsmen who wore a navy three-piece suit with a soft peach tie and pocket handkerchief with a buttonhole of lavender, rosemary and gypsophila bound in twine.

Our beautiful bridesmaid wore a soft peach maxi dress with a pair of pearl earrings and a single pearl bracelet to match my pearl earrings."
Being the day before a reduction in covid restrictions, the couple was limited with the activities that they were able to host.

"The outdoor scenery and professional food displays as well as our amazing photographer creating some beautiful shots with the children and other guests kept everybody entertained," Amy says.

"When we moved into the barn for our wedding breakfast, we enjoyed cutting the cake, making the speeches and the children had goodie bags filled with activity booklets and toys as well as some games to keep them entertained."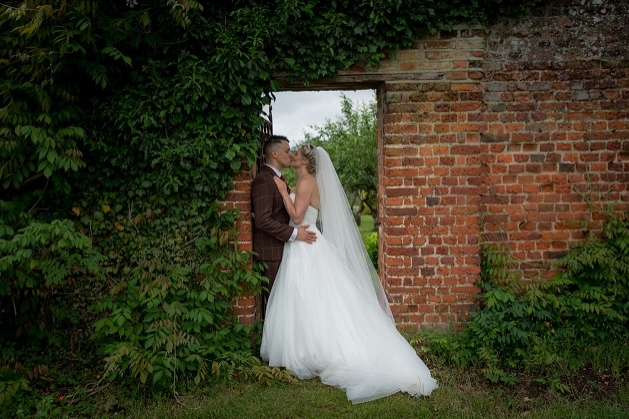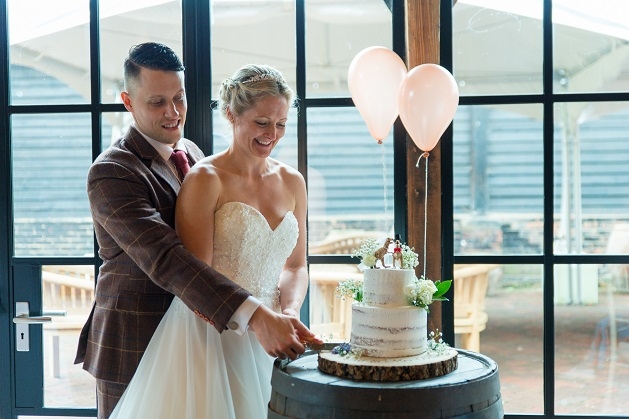 Amy and John's contact book