Stacey and Jake met through an online dating app. "As our first date, Jake took me for breakfast after one of my night shifts which was a real treat," Stacey tells us. "We became engaged during the week that we went into the first lockdown!
It was very romantic because we were at home and Jake had asked my mum to call me as a distraction while he decorated our home with candles and flowers. He had Tale As Old As Time from Beauty And The Beast playing, which is my favourite Disney movie that ended up being the song I walked down the aisle to because we hired a string trio who played a beautiful arrangement for us."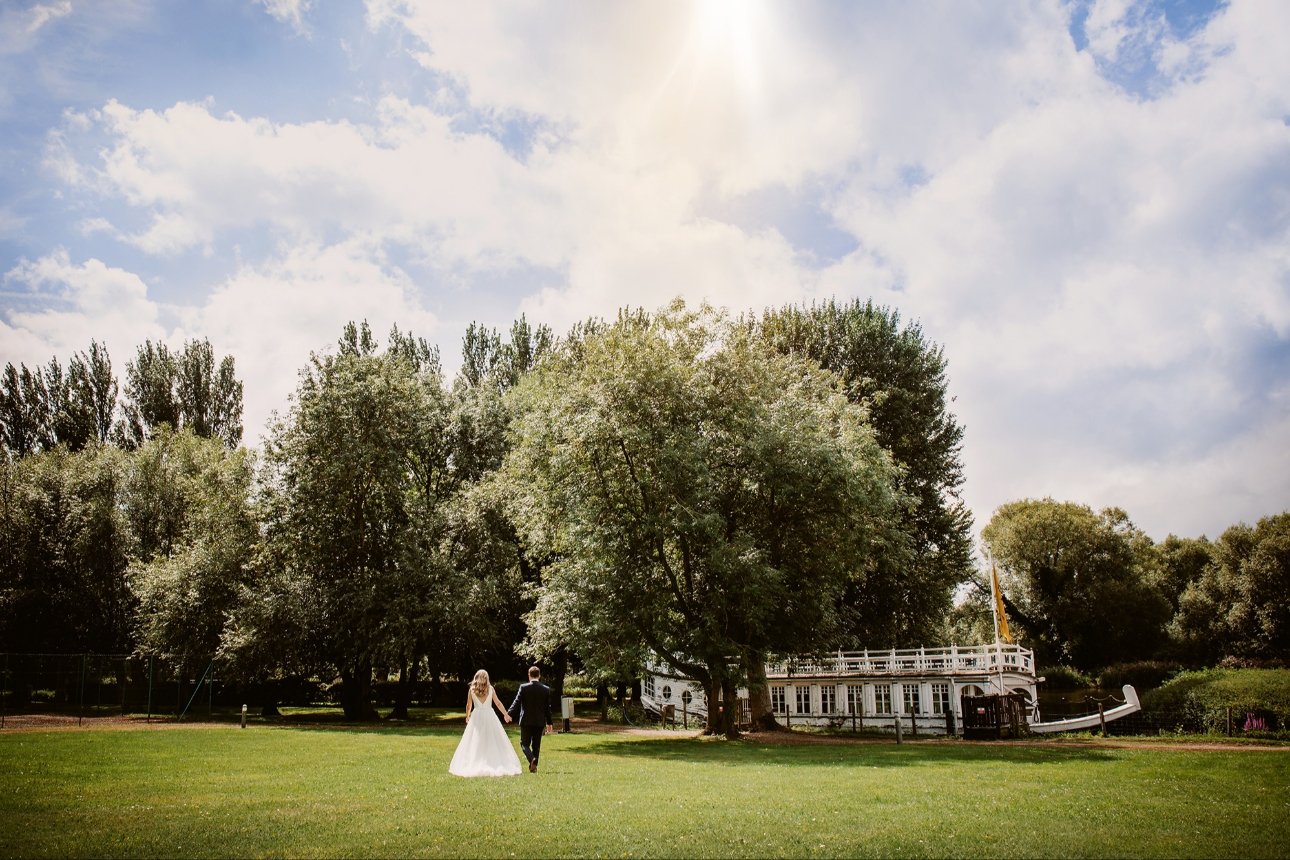 "The venue was perfect - we both loved it the first time we visited," Stacey says. "The outdoor areas looked so pretty and we wanted to get married outside using the gazebo by the river. The conservatory where we held our wedding breakfast felt so bright and spacious and everyone stayed over at the hotel to prolong the celebrations!"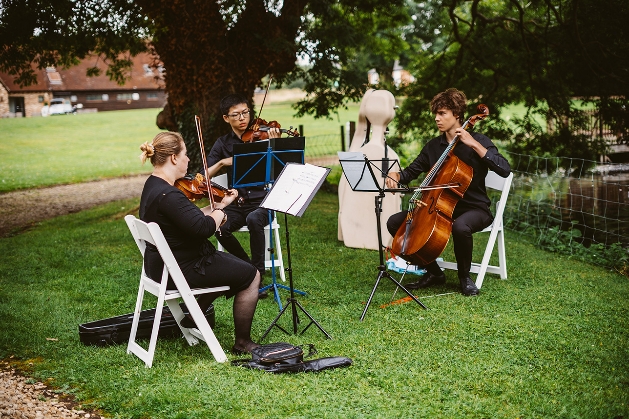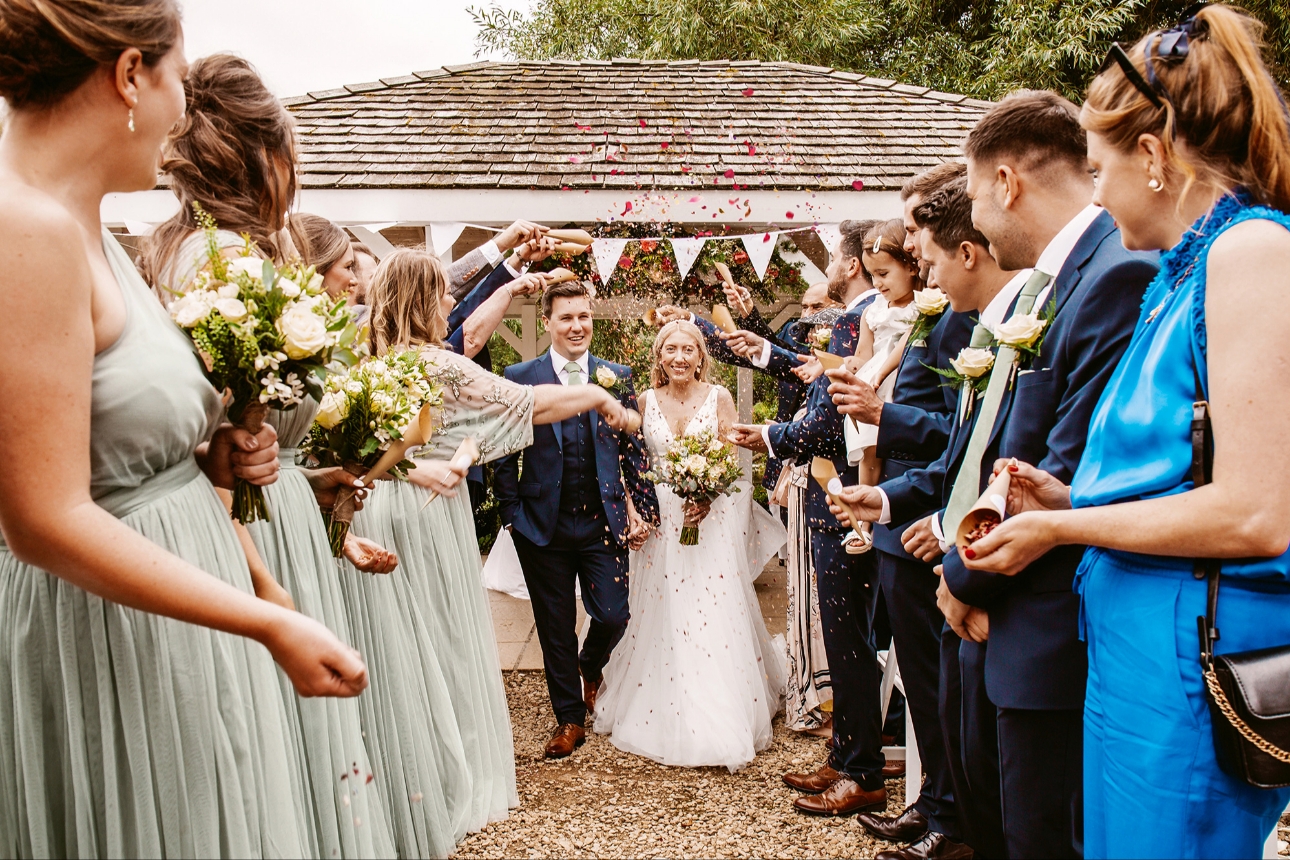 The couple hired a vintage car to have photographs taken with because Stacey stayed at the hotel the night before so didn't need any transport. "I have a Fiat 500 and a slight obsession with the vintage versions so we hired a beautiful white vintage Fiat decorated with a hessian 'Just Married' sign, a white flower and foliage garland placed on the bonnet and balloons," she tells us.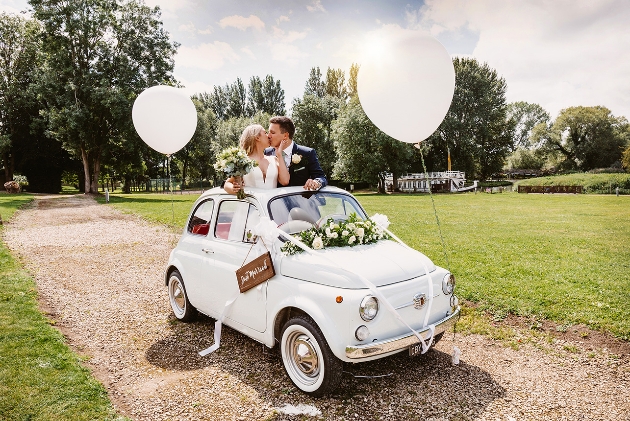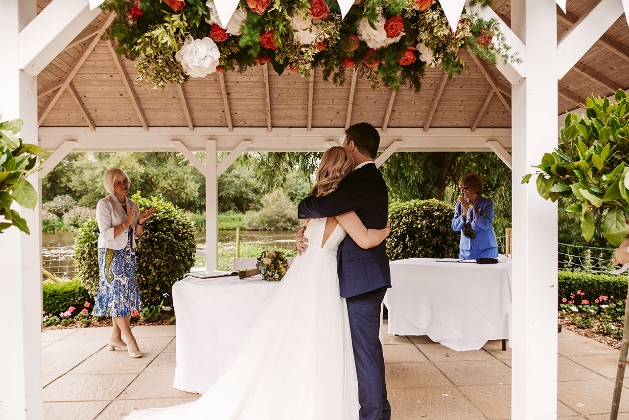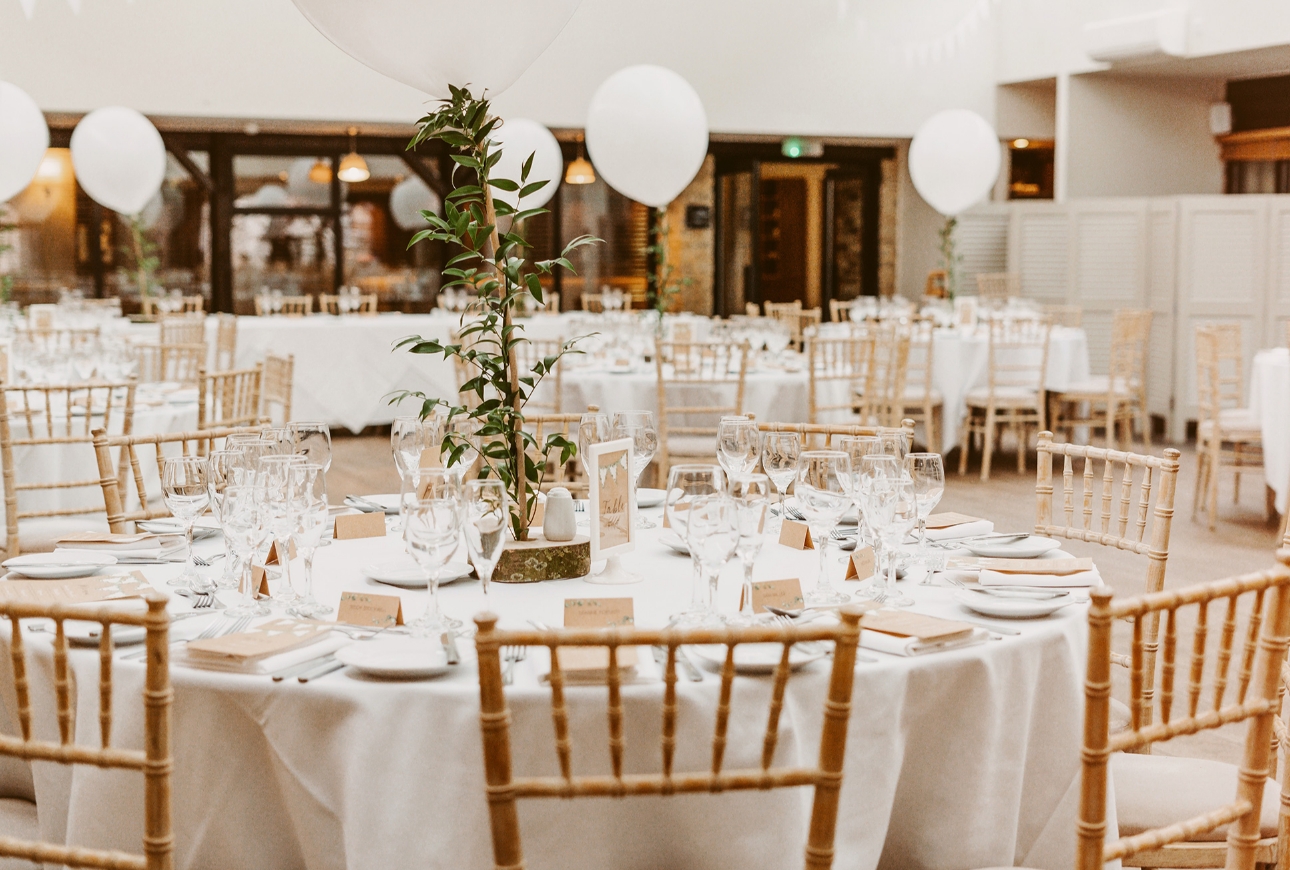 The couple decorated their day with a white and green colour theme and some other fun décor. "My stepsister Karla-Louise designed all of our stationery including our table plan, place names and table names using a cork-brown card," Stacey tells us. "She also created some white leafy bunting using eucalyptus leaves that we strung everywhere from the gazebo used for our ceremony to the conservatory and also in the small barn where we placed a photo booth and Mr & Mrs-themed table tennis to entertain our guests."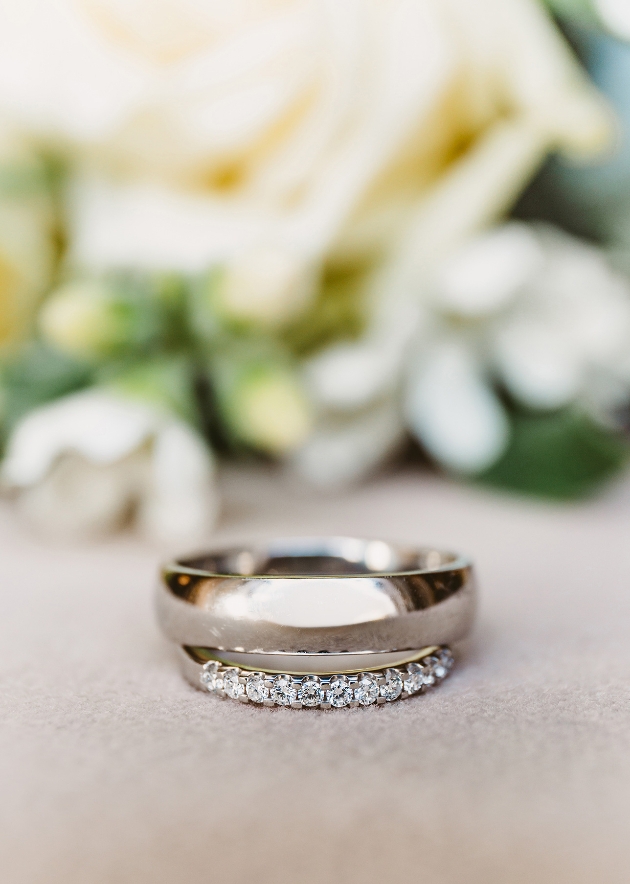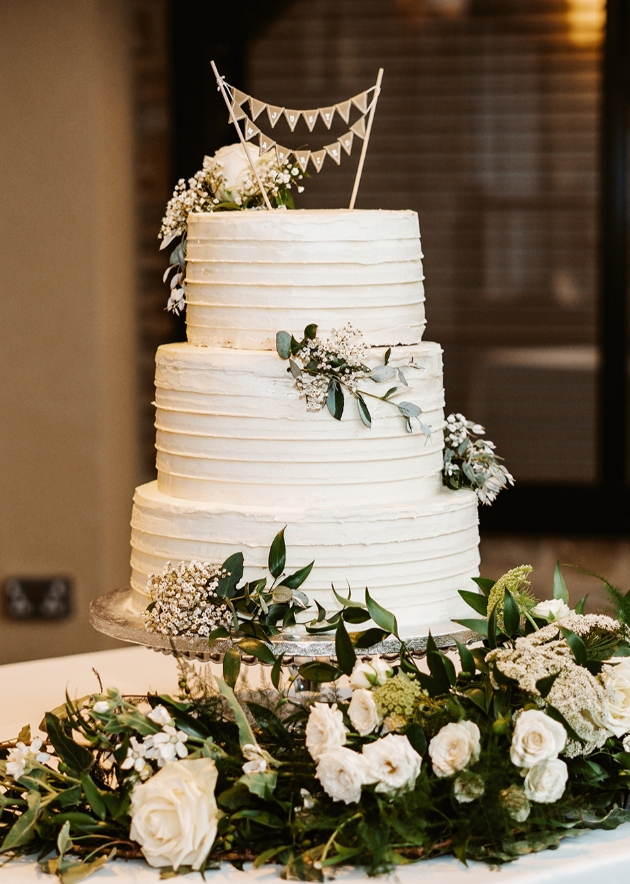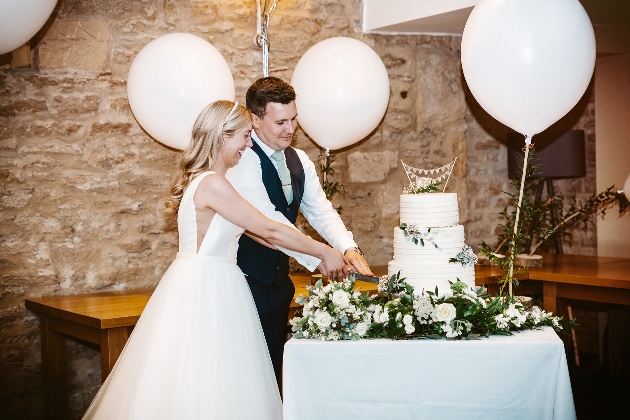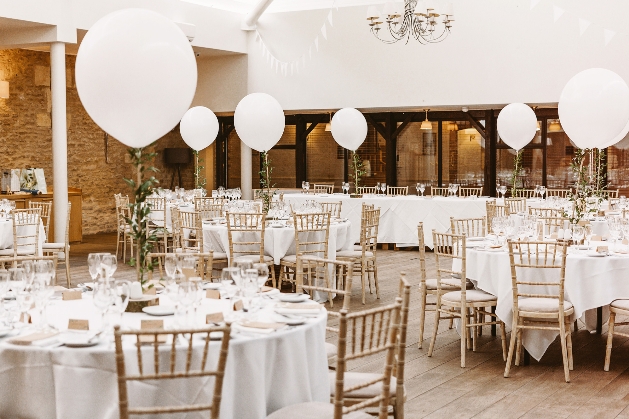 Stacey wanted large white balloons scattered around the venue so included these as centrepieces attached to stands wrapped in hessian. "My stepdad sourced some log slices for the base and our florist provided the leaf stems to climb up the stands," Stacey says. The couple's florist also created garlands for the photo booth, vintage Fiat and the bouquets. "My main request was for plenty of foliage with pops of white to tie in with our theme," Stacey explains.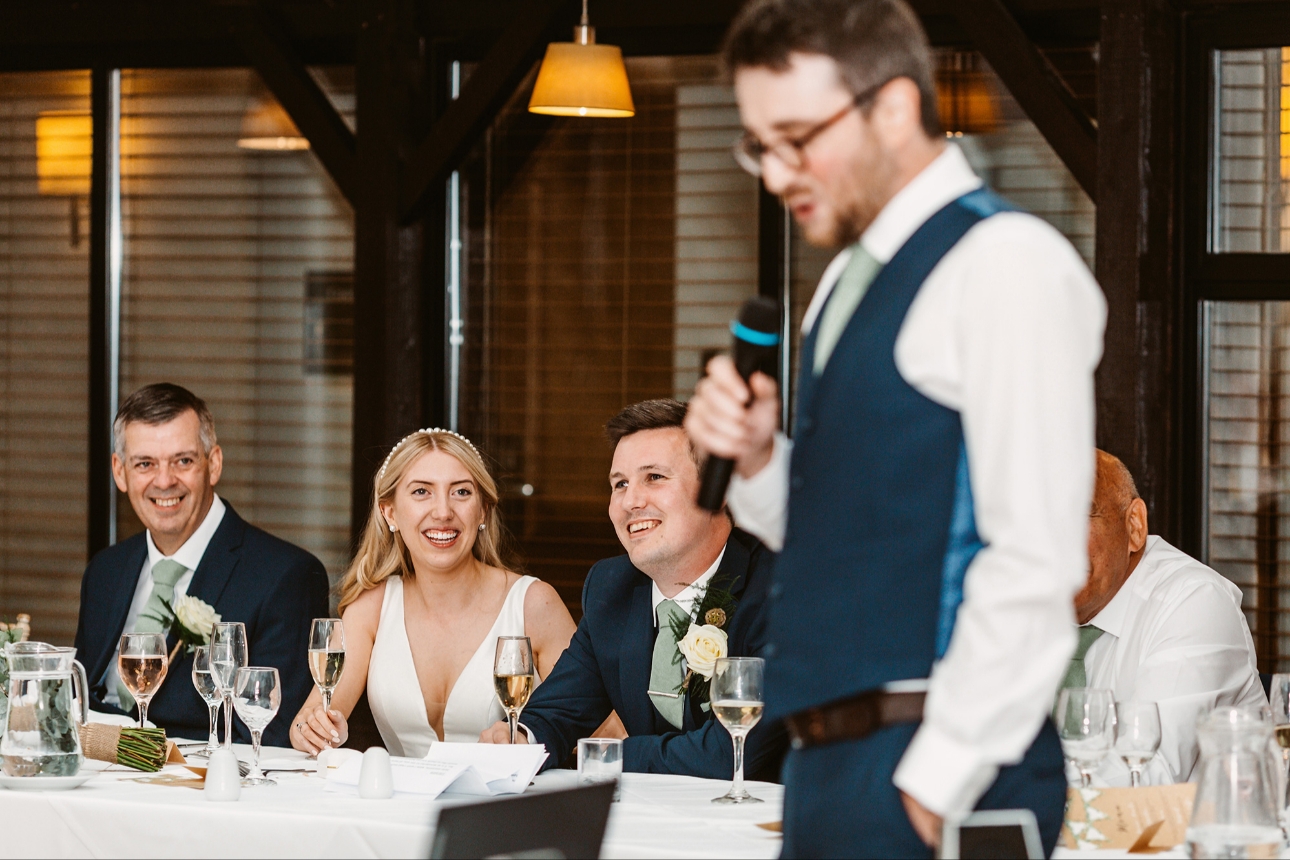 "Everyone says it's the best day of your life, but for us, it was. To have all of your favourite people gathered together with good food, music and sunshine was a wonderful feeling - it doesn't get much better than that!" – Stacey and Jake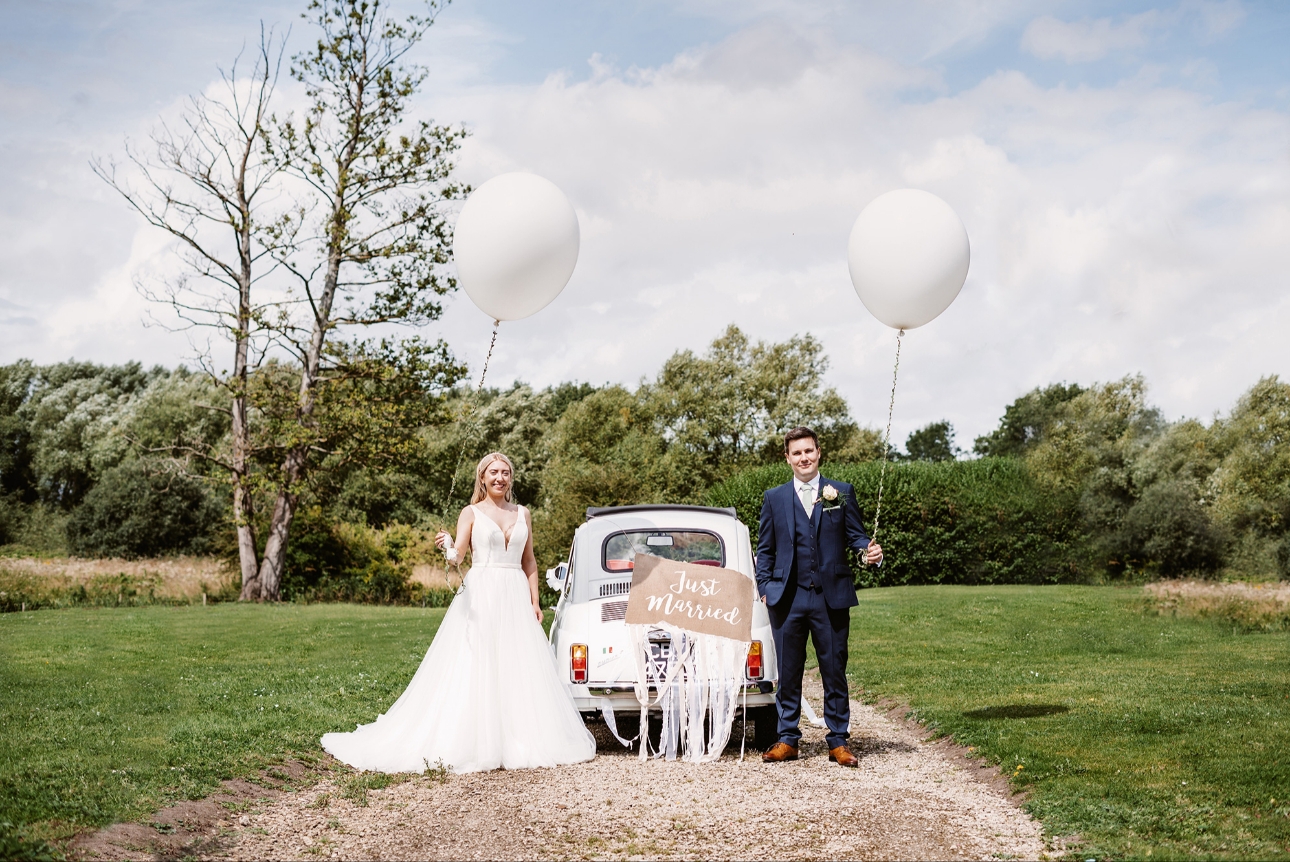 Stacey and Jake chose a white tiered cake decorated with leaves and a hessian bunting cake topper. Their catering was provided by the talented team at the hotel. "We enjoyed canapés outside by the river, a three-course sit-down meal and Jake's favourite food during the evening - hog roast rolls with all the trimmings!" Stacey says.
The couple's bridesmaids wore sage-green tulle dresses featuring different necklines. "Jake, his groomsmen and our dads all wore navy suits with sage-green ties, pocket squares and brown shoes," Stacey tells us. "Jake and his best man, Ben, wore a three-piece suit to stand out and Jake wore some personalised map cufflinks. One featured a map of Salcombe in Devon where his family used to enjoy holidays - it;s also a place that we have visited many times together and where Jake asked me to be his girlfriend! The other showed a map of Oxford which is where we live and where Jake proposed - he's such a romantic!"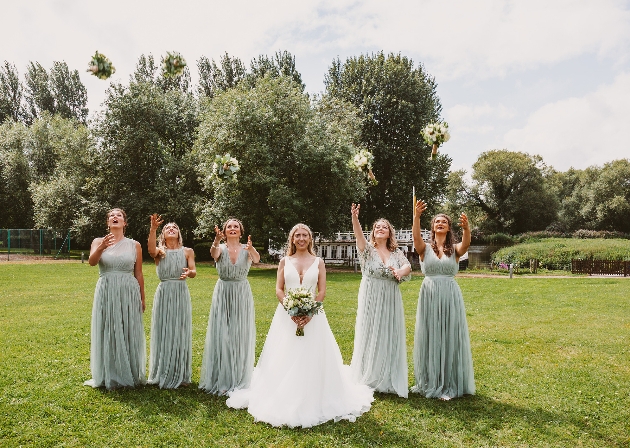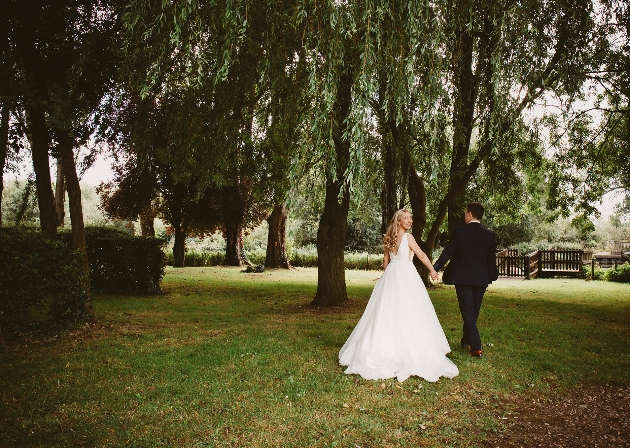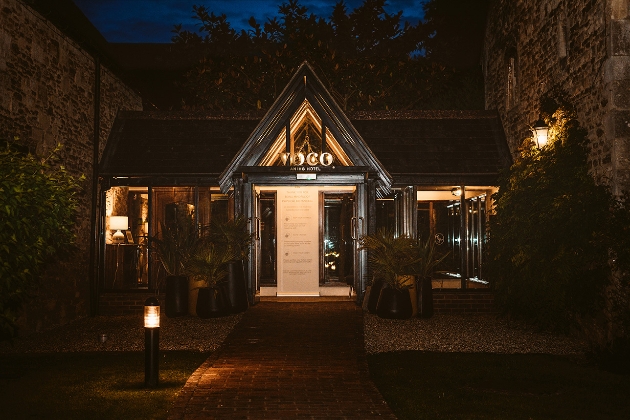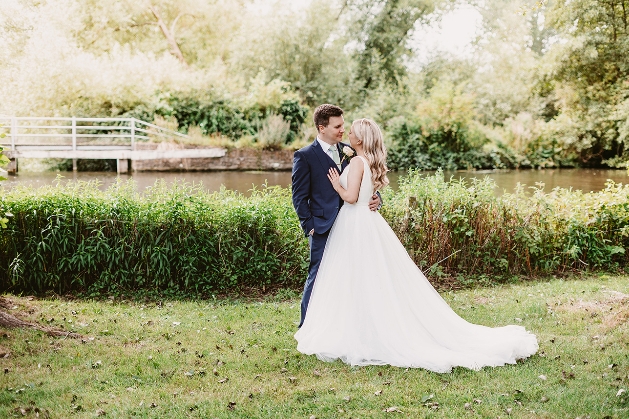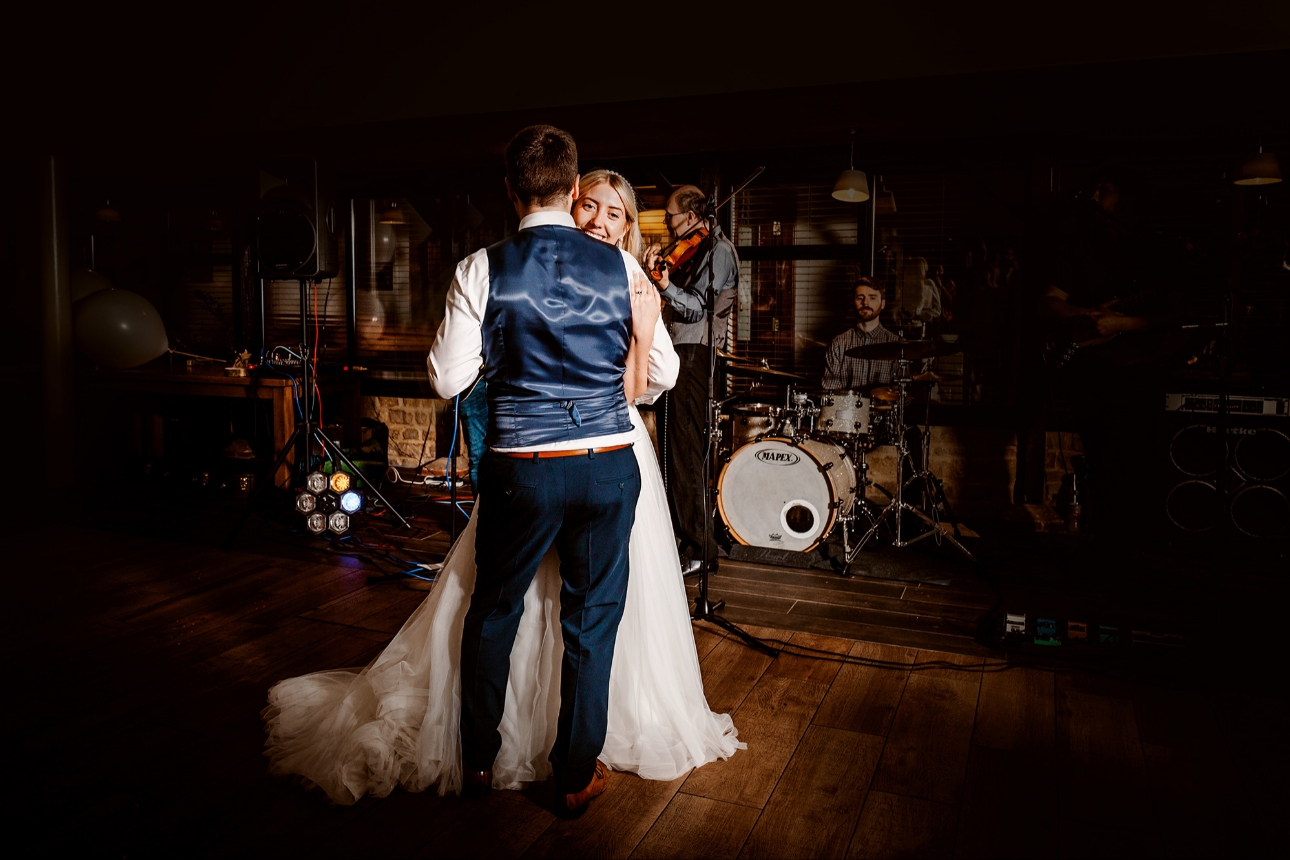 Along with the wooden photo booth (made by Jake's dad) and table tennis, the couple hired an Irish band as their evening entertainment. "They performed our first dance song and various sets throughout the night," Stacey explains. "The Irish jigs went down particularly well, especially after a couple of glasses of wine!"
"The speeches were so special and my sister produced a beautiful slideshow featuring photographs of us as a couple - she included the song from the start of the Disney film Up, which is a real tear-jerker! So that set me off, I cried a lot of happy tears throughout our special day! – Stacey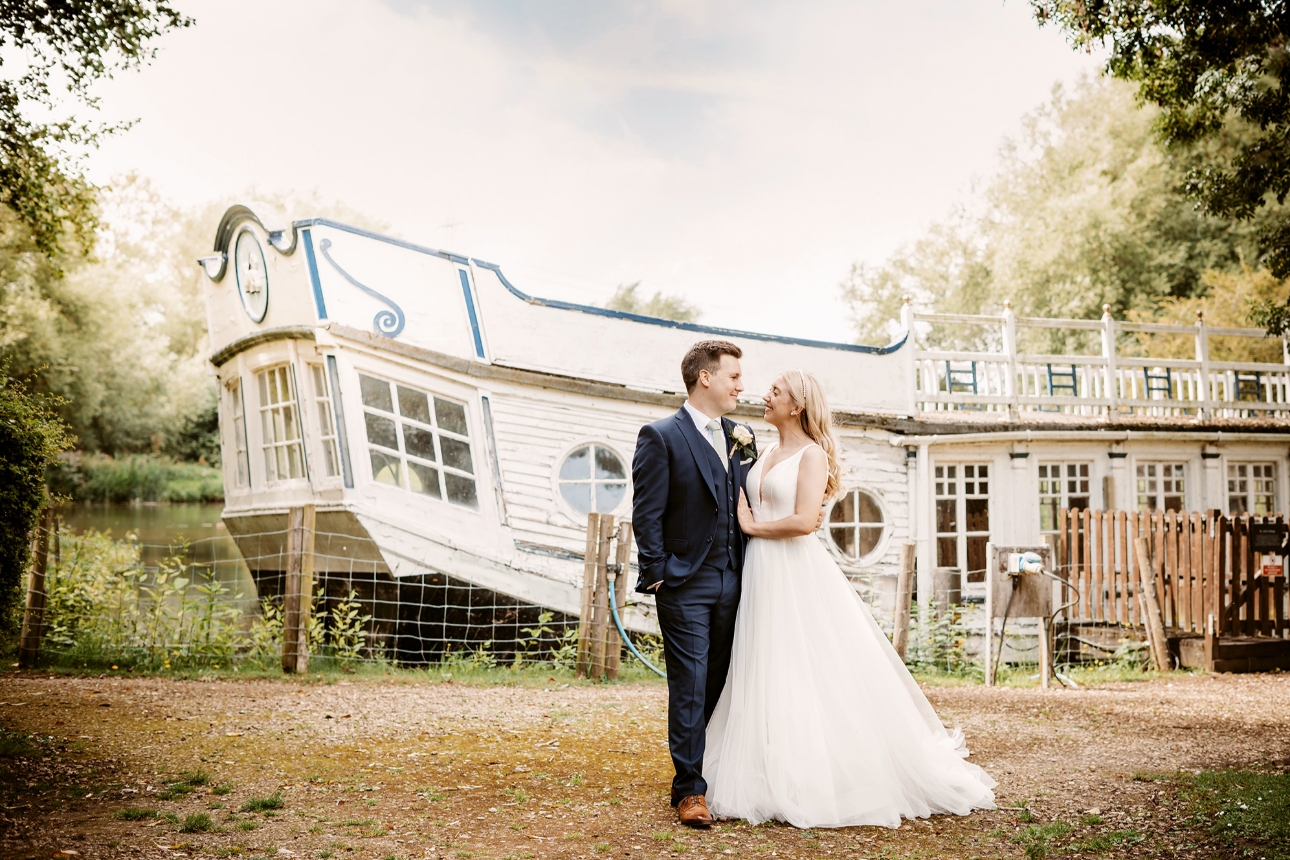 "We can't thank our amazing photographer, Vicky Lewis, enough. Winning her gift to photograph our entire wedding lifted us so much during those first few months of the pandemic. She went above and beyond for us and gave us so many good tips, which was much-needed for Jake who hates having his photo taken. She made us feel so relaxed on the day and the results were amazing!" – Stacey
Stacey and Jake's contact book