Pippa and Ollie met in 2015 at their friend's wedding. "We moved in together in 2018 after enjoying a long-distance romance for three years," Pippa tells us. "Then, in 2019 our Fox Red Labrador who we named Juniper joined our family."
Ollie proposed to Pippa on the beach at Felixstow during the summer of 2019. "It was a wet and windy day and we were trying to introduce Juniper, who was a puppy at the time, to the sea," Pippa tells us. "She was nervous about the waves so I ran in to encourage her. When we made it back to the beach, Ollie got down on one knee and presented me with an emerald engagement ring and asked me to marry him! Of course, I said 'yes' but it wasn't a total surprise. I knew that Ollie was going to ask me at some point because my mum was so excited after he had asked for her and my dad's permission that she told me! But Ollie did manage to surprise me on the proposal day - it was incredibly special and perfect for us!"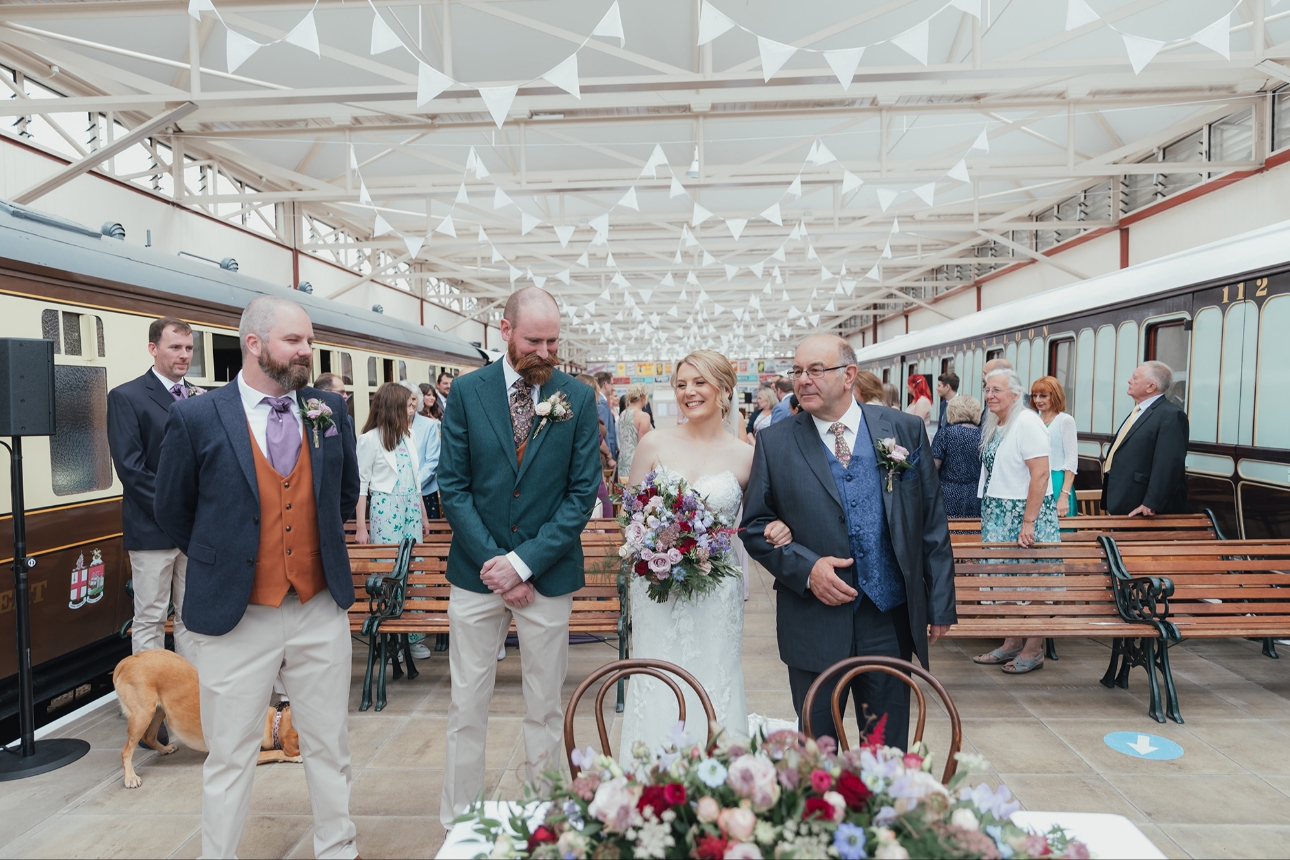 Pippa and Ollie visited the Buckinghamshire Railway Centre a couple of years previously on Valentine's Day and loved it. "They were holding a steam day and it's such a cool venue, the walls are adorned with vintage advertisements plus it has a glass ceiling and two steam trains flanking the aisle," Pippa tells us. "It reflected my love of romance and history while Ollie enjoyed the design and engineering elements. We knew that we wanted a spacious venue close to home without the need to add a lot of decoration."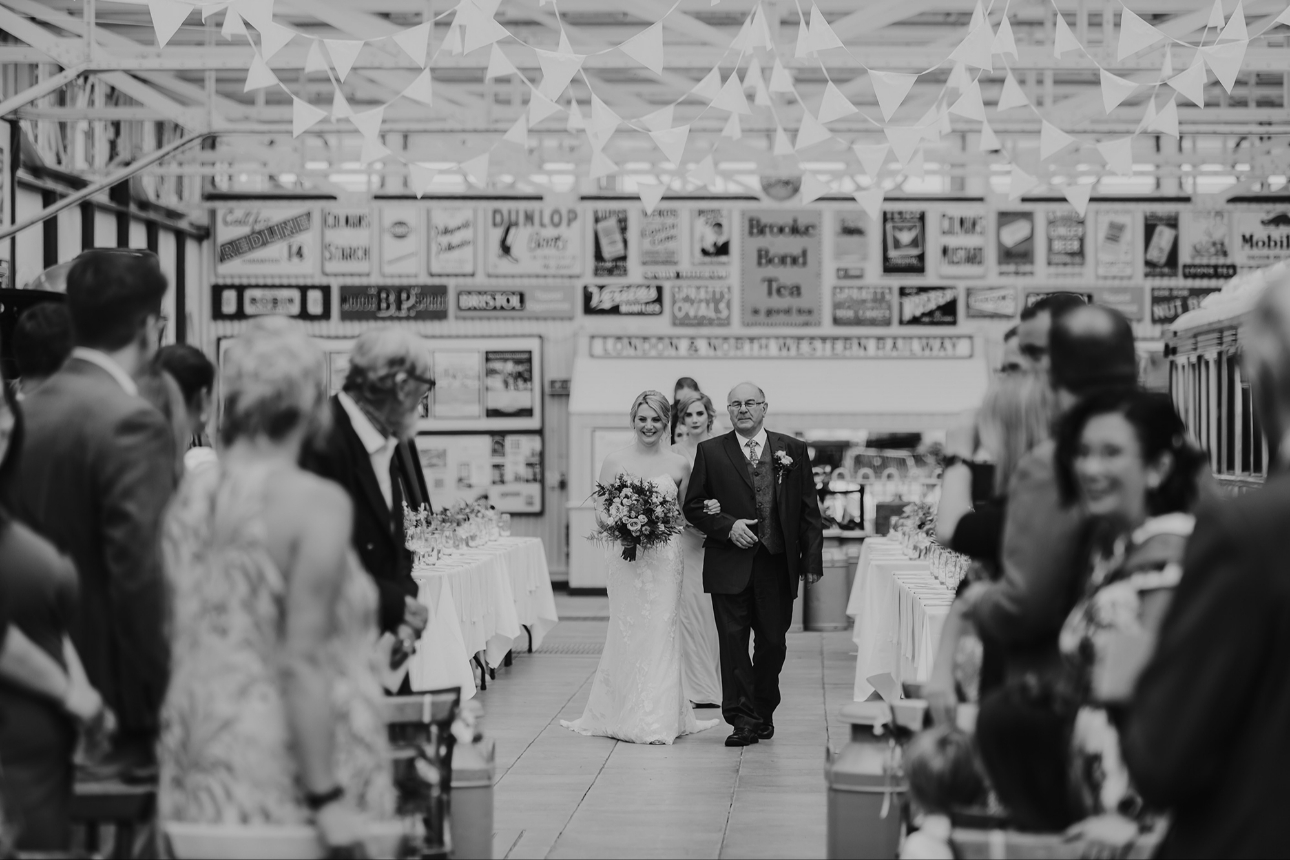 Pippa arrived at the venue with her father and sister in a light-blue Daimler V8. "I chose this for my dad who loves classic cars and travelled to his wedding to my mum in the same model," she tells us. "After the ceremony, all of our guests had a ride on a steam train before heading into the champagne reception."Pippa was worried that she would feel nervous during the ceremony but it was a joyful experience. "Ollie enjoyed watching our guests arrive and told me that seeing my smile was one of the best parts of the day for him," she says. "I also loved that we had Juniper in attendance throughout the day - she barked during our vows and made for a very vocal guest! We also had lots of children at the ceremony and reception which gave the day a less formal atmosphere."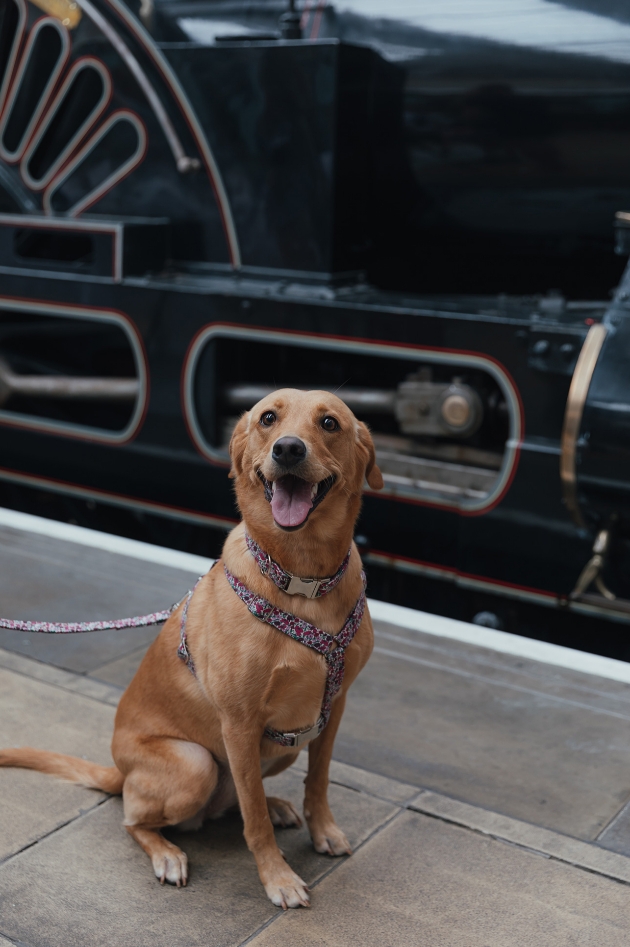 The couple's groomsmen, Matt, Charles and Robert, along with their bridesmaids, Alice, Olivia, Holly and Linda, were all a great help on the day, each taking turns to look after Juniper and help to organise guests. "We were particularly grateful to Matt, Olivia and Alice who spent the day before helping to set up the venue, Pippa says. "The staff and volunteers at Buckinghamshire Railway Centre were also incredible from start to finish. They let us have plenty of freedom and their help setting up and clearing away was invaluable. We also hired an on-the-day manager, Lucie, who also provided staff. She was incredible and knew exactly what we wanted and ensured it ran smoothly."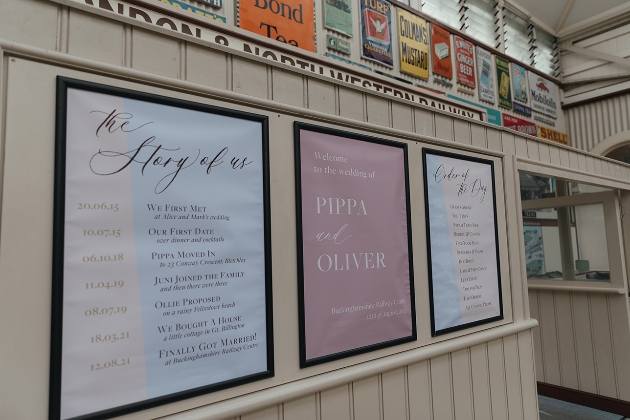 Pippa runs a wedding stationery business, The Stationer by Jeeves & Co. "I wanted Ollie to love the wedding stationery as much as I did so I designed something simple yet inventive and used only the very best materials and specialist print techniques," she tells us. "I created order-of-service cards and our place cards that were attached to the menus using layers of coloured cards secured with a gold bookbinding rivet.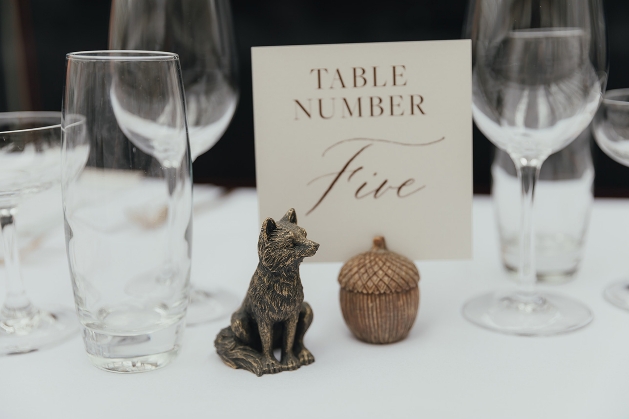 The order-of-service was held in a foil-stamped pocket and embellished with a matte white wax seal." Pippa also created the table plan using a large ornate gold mirror which featured table cards with each guests' name written in nib and ink calligraphy. "Each card was secured with a monogram wax seal in hot pink," she described. "Other signage included a welcome sign, cinema sign, order of the day, timeline of our relationship, bar menus, cake, and guest book signs."
The couple opted for long rectangular tables for their wedding breakfast topped with white linens and crockery, gold cutlery, champagne saucers and bud vases brimming with mauve, pale peach, hot pink and burgundy blooms mixed with plenty of greenery. "We also had glass tea light holders and picture holders shaped like acorns, hares, foxes, and birds to hold the table numbers," Pippa says. This was in addition to a postcard guest book with 'travel by rail' postcards from places that they had both lived in.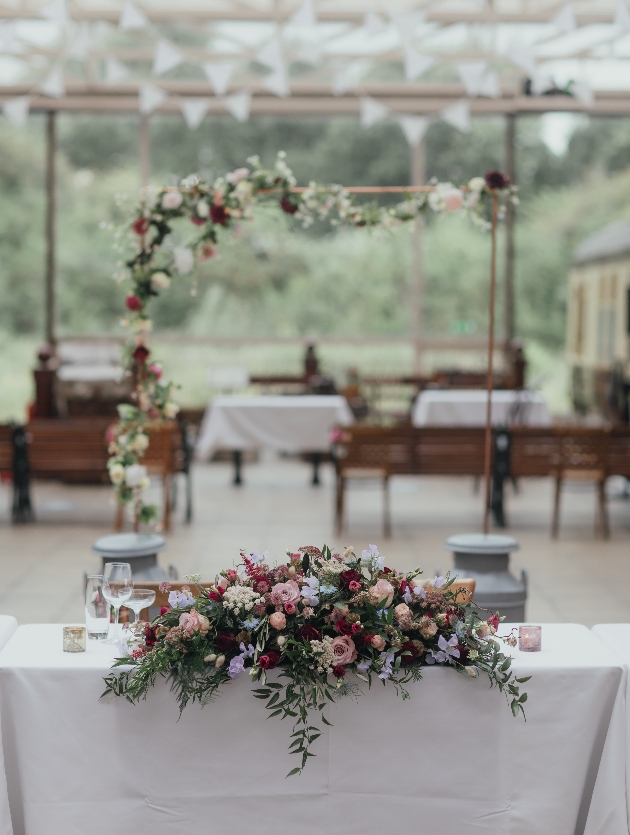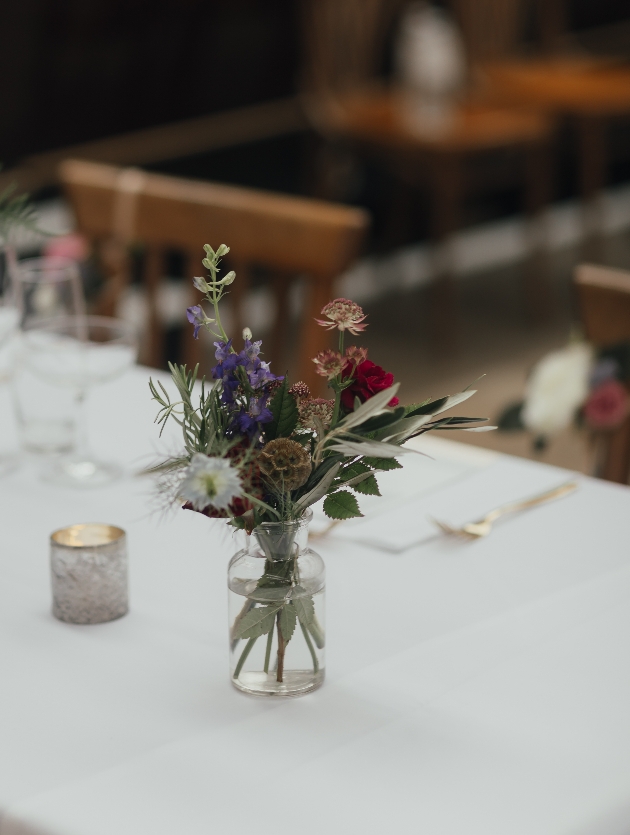 The flowers helped set the theme. "I asked our florist, Emma, to create wild and whimsicalT bouquets, buttonholes and a long table arrangement with a subtle woodland feel," Pippa explains. "She used a collection of garden roses, scabious, astilbe, delphinium, sweet peas, eucalyptus, nigella and asparagus ferns among other varieties. To complement these, I wrapped faux garlands around the copper wedding arch and sign stand that my dad had made."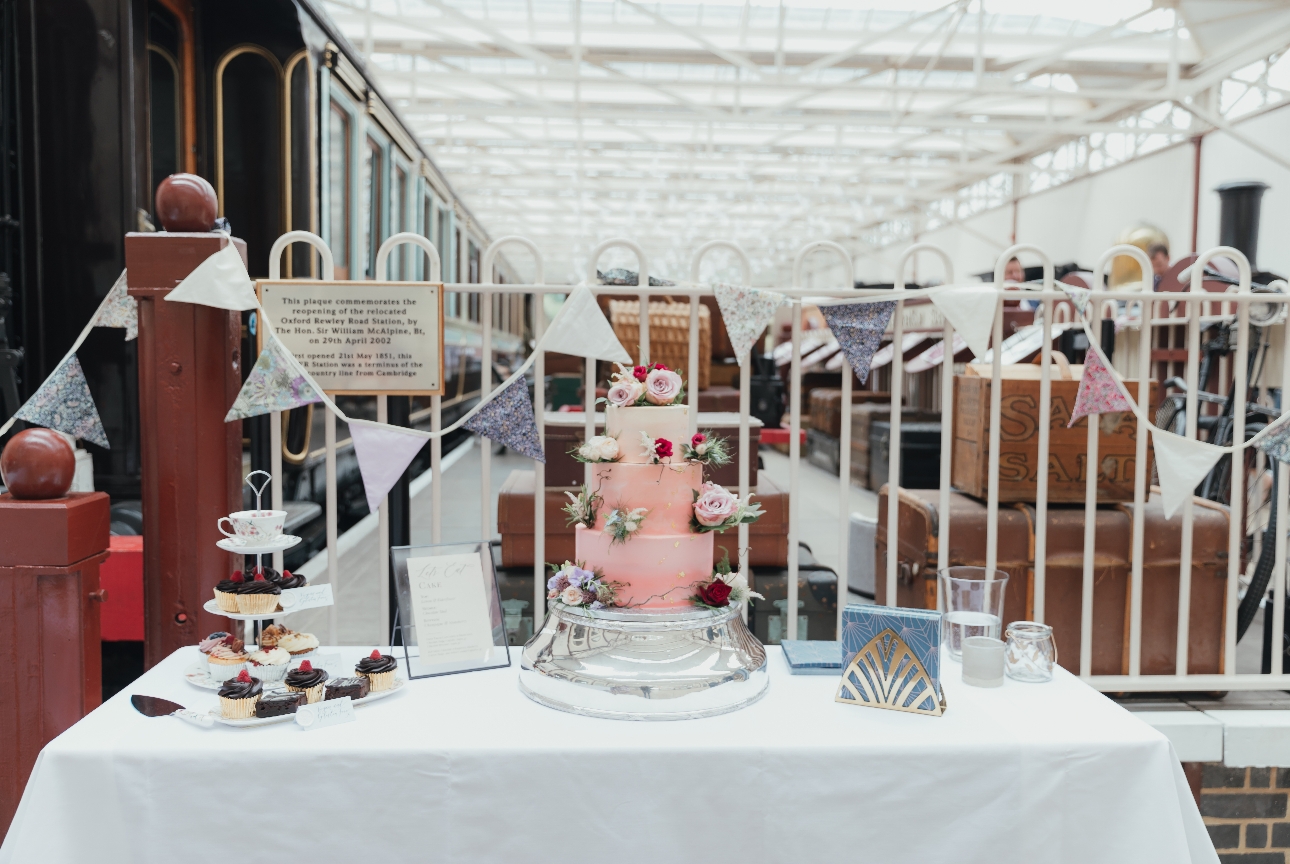 The couple's three-tier pink ombre wedding cake was embellished with gold foil. "We chose a champagne and strawberry layer, a lemon and elderflower tier and a chocolate mud cake," Pippa says. "We also provided vegan and gluten-free cupcakes and brownies displayed on a tiered cake stand."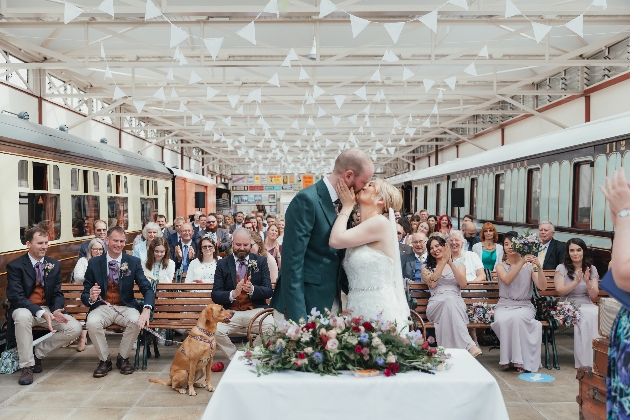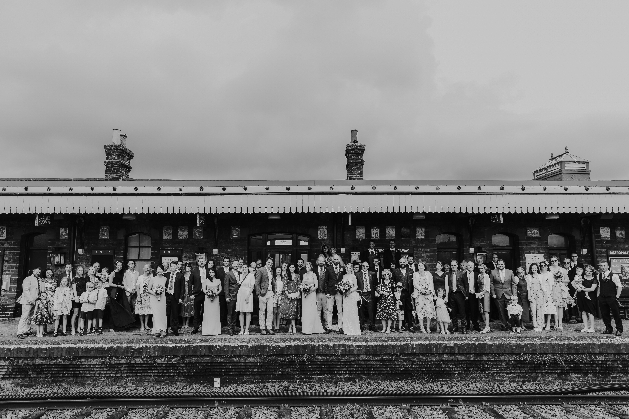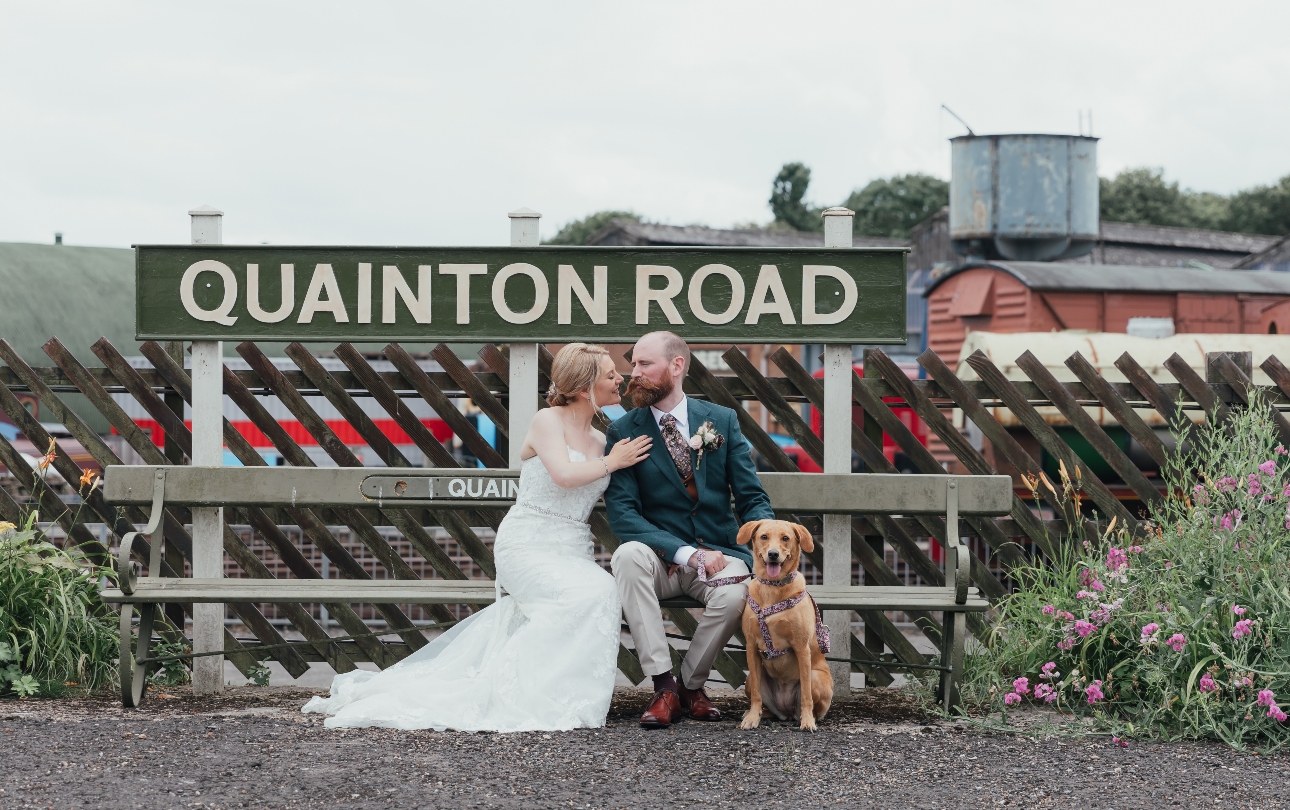 Pippa and Ollie wanted their catering to be informal yet indulgent so they chose the street food vendor, The Lazy Pig, who served mini beef Yorkshire puddings, smoked salmon bagels, pigs in blankets and veggie bruschetta canapés during the champagne reception. "For the wedding breakfast, we had a hog roast with all the trimmings, followed by a choice of three desserts – Jammy Dodger cheesecake, chocolate brownie and tarte au citroen," Pippa says. "During the evening, guests could choose from four different stone-fired pizza options and we had an open bar offering wine, fizz, beer and spirits with a bubbly bar for guests to add Edinburgh gin liquors and Belvoir cordials to their prosecco."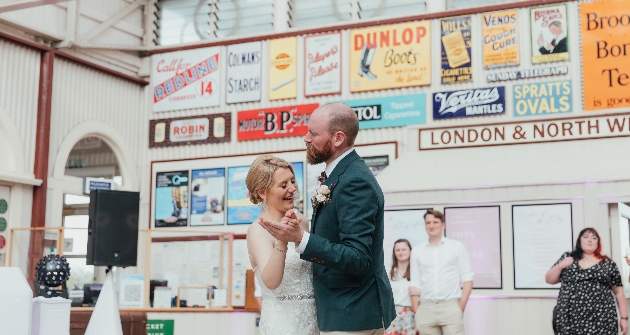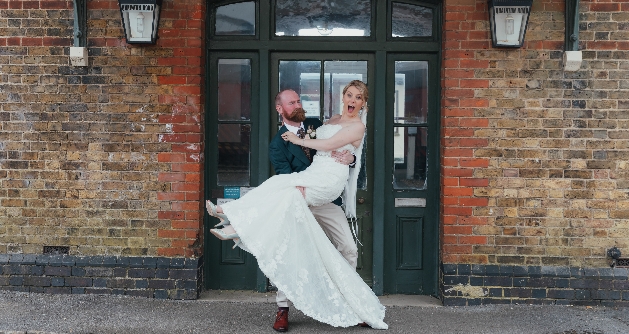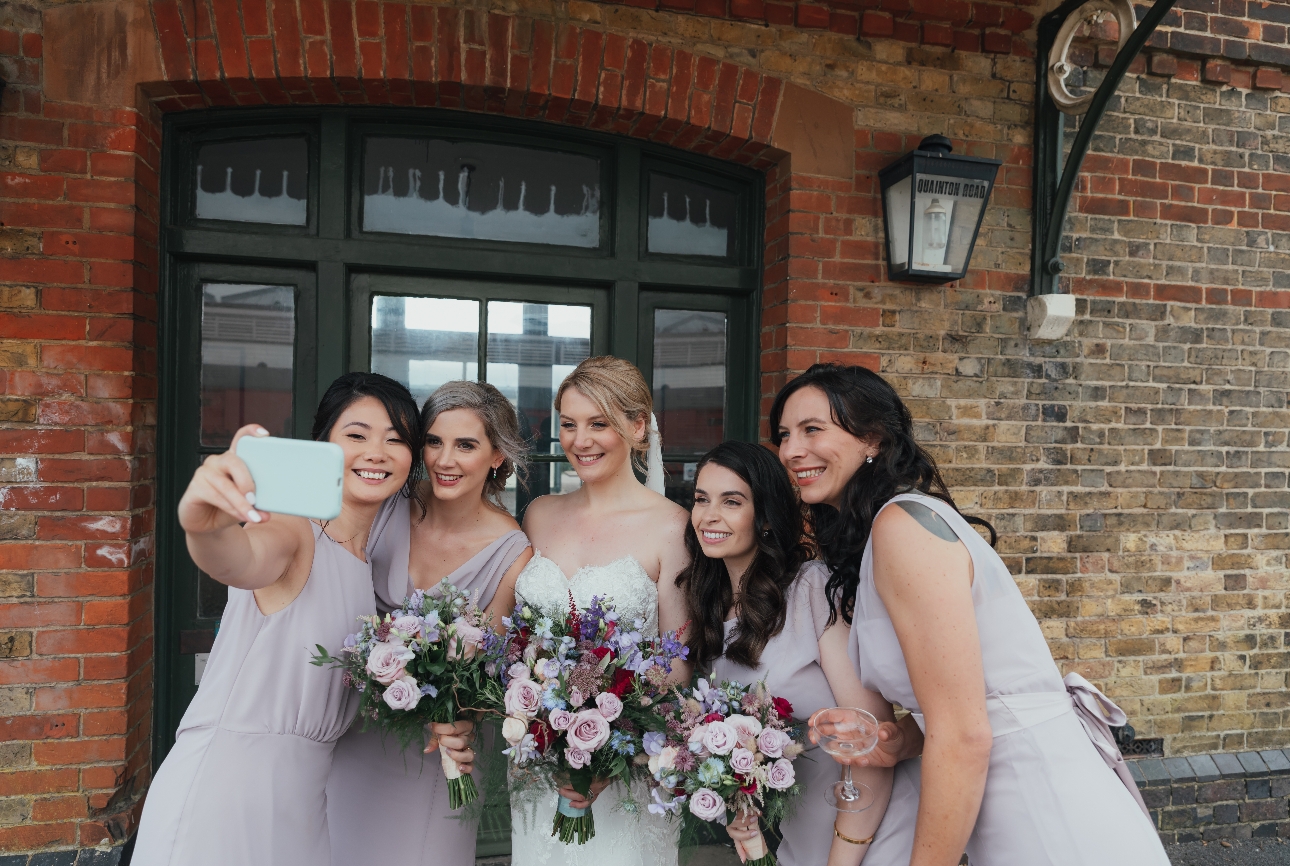 Pippa wore the Ilma dress by Pronovias. "It's an ivory strapless Chantilly lace and embroidered-tulle mermaid-shaped dress featuring a sweetheart neckline," Pippa says. "It was the first style that I tried on and I fell in love with it." Pippa styled her dress with vintage glamour and whimsical-inspired pieces. "I had a French silk tulle veil and hairpins, a Swarovski crystal bracelet and earrings with green crystals to match Ollie's jacket and my engagement and wedding rings, and I also wore a pair of elegant mint shoes and carried a clutch bag."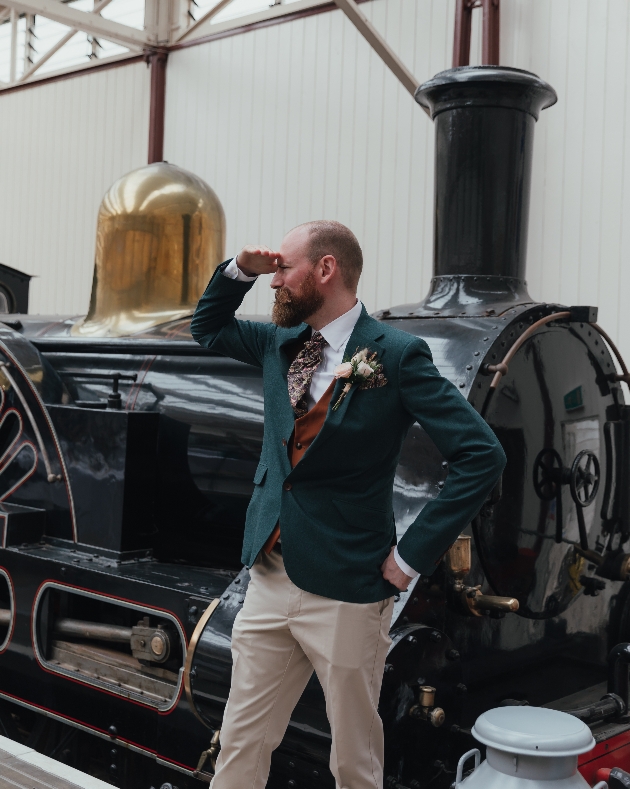 Ollie had a green suit jacket made for him that he teamed with cream chinos, tan brogues, a cravat and pocket square and a silver fox cravat pin. "My mum made 40 metres of bunting from Liberty London fabric which looped across the entrance and interior gate and fences," Pippa says. "I matched the patterned fabrics with other aspects of our day including Ollie's cravat and the inside of his suit jacket, my Dad's tie, Juniper's harness and lead, and my bridesmaids' gift bags. The groomsmen's chinos and waistcoat matched Ollie's but they wore navy jackets and a dark-purple cravat and our bridesmaids wore full-length mauve dresses paired with sparkly cover-ups."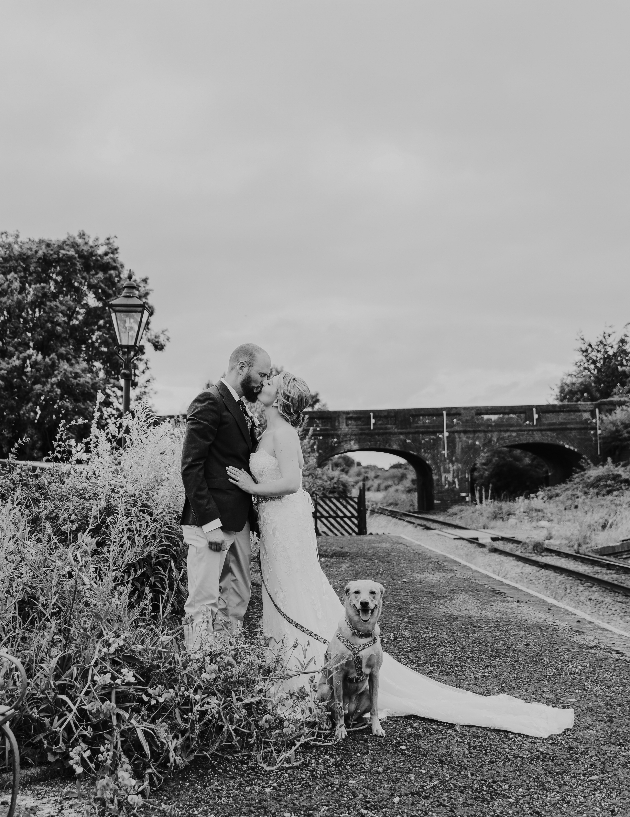 During the ceremony, the couple had a string duo. "Their performance was a real highlight for me," Pippa says. "Having live music and compositions that we choose ourselves made our ceremony feel very personal and intimate. During the evening, we had a DJ play and a magician entertained the guests who didn't want to dance. We also created a DIY photo booth using 1920s-style props and a vintage-style instant camera."
Pippa and Ollie's contact book