Our early Christmas gift to you: award-winning Oxford hairdresser Anne Veck's guide to the perfect wedding hair
When it comes to big-day looks, Oxford and Bicester-based hairdresser Anne Veck is one of the top in the business, but don't just take our word for it – not only has the hair salon won two green awards this year (from the Salon Business Awards and the National Hairdressers' federation) but it also recently won six awards in Paris at The Big One awards and The Best Emerging Talent competition.

Here, Anne shares her tips for the perfect wedding hair with Your Berks, Bucks & Oxon Wedding...

CHOOSING YOUR LOOK

When choosing your look for the big day, remember to look like yourself. The secret is to create something beautiful from your everyday look, but not to go so far as not be recognisable as yourself. For example you'll probably want a contemporary style but not so far out that it doesn't stand the test of time. Chic and messy are among today's trendiest wedding hairstyles. A romantic up do with a crown braid is stunning, and plaits, twists and knots are very on trend, too.

If you have a high forehead ,a fringe will look fab. Blunt or choppy, fringed or side-swept, they can completely transform a hairstyle and if you have longer hair, you don't even have to cut the rest of your locks. It's a fun way to change your look, so if you really don't want a big change, try it after the wedding.

To make sure your hair stays in place all day, chose a hairdresser who is an expert in his/her field and has lots of experience. Even the most effortless style has to be built on a strong base in order for it to last throughout your big day.

When it comes to styling products, less is more if you want to achieve a more fashionable hairstyle. It should be loose and messy to look more natural. My must-have to keep volume and texture is Revlon Professional Volume Powder from their D:FI range. For great hold with great workability (for tweaking during the day), I recommend Revlon Professional Style Masters Hairspray Modular 2.

TIPS ON TIMING AND PREPARATION – BEFORE AND DURING THE DAY

The key to beautiful hair on your wedding day is preparation. Make sure you meet your hairdresser well in advance to discuss your ideas and requirements for the big day. Then together you can work out a plan to make sure your hair is in the best possible condition. Healthy hair is vital to ensure your wedding day look is as beautiful as you deserve. If possible, aim for a six-month programme of appointments, including a trial session around three months before the wedding day itself, when you should bring along any accessories, tiara and a photograph of your wedding gown. You'll feel more relaxed and confident knowing nothing has left to the last minute.

On the day, both you and your hairdresser will need to start on your hair quite early on. For example, for an up do, you should have washed and dried your hair at least two hours before your hairdresser starts, otherwise the curls are more likely to drop.

To help your hairdresser get everyone done on time, work out a rota for your preferred order as to who is having their hair done when. Above all, trust your hairdresser. They will probably not start and finish each person one at a time, instead probably prepping everyone's hair first, leaving to cool down, then dressing the hair later.

MAINTAINING YOUR COLOUR

Use the right shampoo. Some shampoos can be quite harsh on your hair which, in turn, causes your colour to fade much quicker. It's important to use a shampoo that is specifically designed to boost and promote colour. Follow your colourist/hairdresser's recommendation.

Regular conditioning will help your colour last longer. If the condition of your hair is bad, the hair cuticle opens up and allows the colour to drop out. It's important to condition your hair regularly, particularly when having colour, as this locks down the cuticle and seals in the colour, making it last much longer. Again, your hairdresser will recommend the best product. Revlon Professional's Revlonissimo range of shampoo and conditioners are my choice.

Going somewhere sunny for your honeymoon? Protection from the sun is vital! The sun can actually damage your colour, making it look tired and faded. The best way to protect your hair is to keep out of the sun completely but I know this isn't very realistic. So when you can,wear a hat or use a protection spray. I swear by Revlon Equave Protection Detanging Conditioner spray.

FINALLY

If you are really pleased with the service, do recommend your hairdresser to others. A thank-you letter and some photos (especially if you are happy for the hairdresser to use them on their website, blog etc) will be very much appreciated.

For more information on Anne Veck's wedding hair and make-up visit www.anneveckhair.com or call 01865 727 077 for the Oxford salon and 01869 248 495 for the Bicester salon.


Posted: Thursday, 30 November 2017
<< View more news
---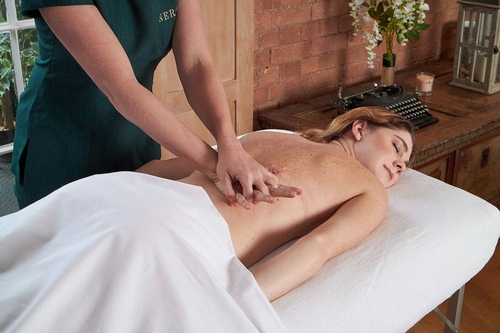 ---
Weddings outside the peak summer months may be more cost-effective for the happy couple but guests spend more according to new research from American Express.... read more
Posted: 19 October 2018
If you're newlyweds-to-be embarking on your wedding planning journey, pop along to the County Wedding Events fair at The Oakley Court, Windsor for inspiration!... read more
Posted: 17 October 2018
Usually known as the best day of the bride and groom's life, a wedding day is a celebration packed full of food, drink and of course, love.... read more
Posted: 17 October 2018
If you're looking for gorgeous gifts for the new Mr and Mrs, check out the new range from PersonalisedGiftsShop.... read more
Posted: 17 October 2018
Former John Lewis coach Ellen Peters is now working with clients to use colour and style, gain confidence and build self-esteem as a stylist with House of Colour in the Thame and Aylesbury region.... read more
Posted: 16 October 2018
---