Why you should buy issue 74 of Your Berks, Bucks and Oxon Wedding magazine...
December/January 2018/2019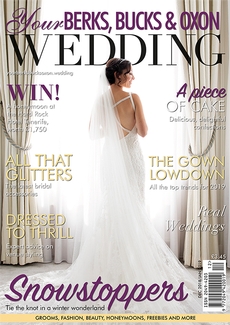 Tenerife competition
Win a three-night honeymoon at the Hard Rock Hotel, Tenerife, worth £1,750
Just one look
Katy and Nicks' guests were dancing on the chairs before breakfast at Hedsor House
The love boat
Marie and Daniel set sail on their journey of a lifetime with a spectacular send-off at Bearwood Lakes
Deck the halls
Megan and James' festive Oxford wedding was emotional in all the right ways
Let it go
Even self-confessed ice queen Nicole dissolved a little when she married Ricky in a stunning celebration at Notley Abbey
Windsor & Ascot
Stylish spots in which to wed
Snowstoppers
Tie the knot in a winter wonderland
The whole world is a garden
Featuring a modern twist on The Secret Garden, this styled shoot comes with a real sense of rejuvenation – and loads of great ideas for your own special day
A piece of cake
Feast your eyes on these delightful confections as the best local bakers serve up their picks of the year
Dressed to thrill
New trends in venue styling from the counties' experts
#dresstrends
We showcase what styles to expect in 2019
Frivolous feathers
Dress up in a fun and flirty number this season
Lady in red
Dress your bridesmaids in this season's most-popular colour teamed with gold
Mask-erade
Bring the life back to your skin with these fabulous face masks
eMagazine
Available to download NOW for only £1.49
Printed Copy
(inc. free eMagazine)
In Stock
Click here to use our online ordering service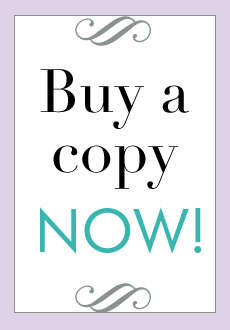 ---
Buy a copy
There are 5 different ways to buy Your Berks, Bucks and Oxon Wedding magazine.

Click here to view some sample pages from an eMagazine
To order the latest copy of Your Berks, Bucks and Oxon Wedding magazine or to obtain back issues, click here.
Alternatively call us to order your copy, post-free for just £3.45, on 01376 514000
Read Your Berks, Bucks and Oxon Wedding magazine in electronic format for just £1.49 per copy (Smartphone and Tablet compatible) click here
You can subscribe for just £17.60!
Annual subscription (6 issues)
Save over 15% off the normal cover price
FREE postage and packing
Receive each issue as soon as it is published
To order your subscription, simply call us on 01376 514000 or click here
Alternatively, click here to order an eSubscription for just £7.60
4. Buy a copy from a retail outlet
Your Berks, Bucks and Oxon Wedding magazine is available from newsagents and supermarkets.
However, if you do have problems, or if your newsagents has sold out, then call us!
We'll send your copy to you post-free for just £3.45 inc P&P. Simply call us on 01376 514000
5. Overseas Orders
For non-UK customers, please email admin@county.wedding for full details.
---