Jaq and Ross' wedding in Marsh Gibbon was full of special moments that they will forever treasure.
Jaq Stevens, 33, married Ross Williams, 38, on 1st September, 2018, at Marsh Gibbon Church, with a reception at Bicester Hotel Golf and Spa.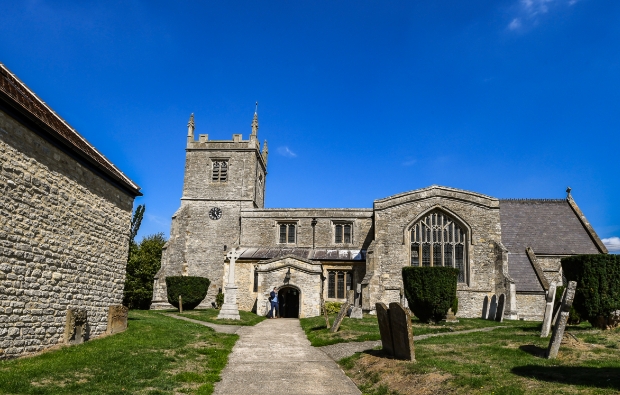 I grew up in Marsh Gibbon and always dreamed of getting married in St Mary's Church. It's a beautiful venue and has a lot of family history for us.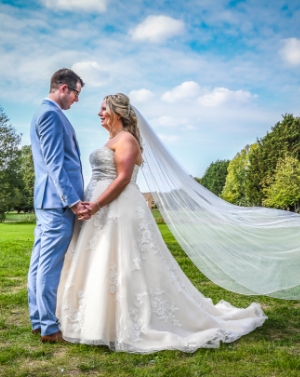 I'd always wanted to wear a princess dress for my wedding, and I wore London by Callista – a full-length A-line champagne gown with intricate lace and a long train – that my maid-of-honour, Jade, picked out.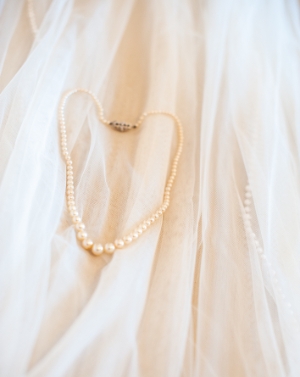 I wore a pearl necklace that belonged to my late mum, borrowed a pearl bracelet and added some matching drop earrings. When I found the Joyce Jackson Pearly Queen veil, I wanted it on the spot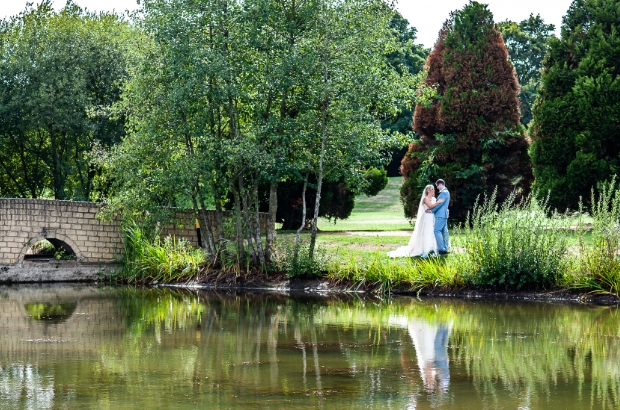 We chose to hold our reception in Bicester Hotel Golf and Spa, because of the amount of space in the Orangery Suite, and the amazing grounds really won us over.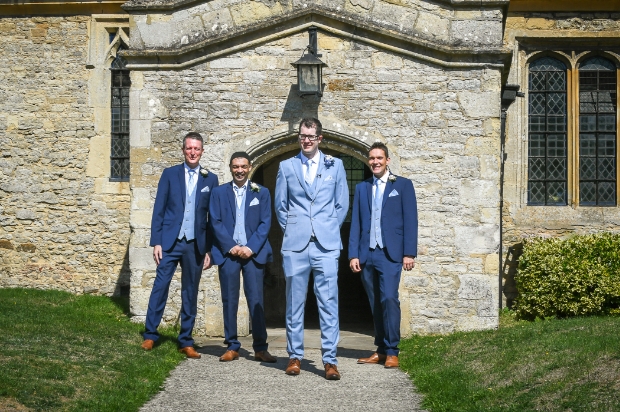 Ross was always adamant he would get married in sky blue. I don't know which one of us was more surprised to find a Ted Baker suit in that shade that looked great on him. I have to admit, I had my doubts before we went suit shopping and thought he might look like a children's entertainer!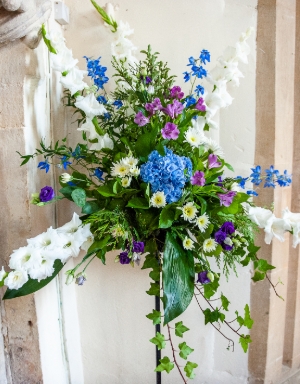 Ross' mum is a florist and provided birdcage centrepieces for us, filled with flowers that matched the bouquets and buttonholes. Our bouquets were beautiful, filled with blue, purple and white flowers and looked so elegant on the day.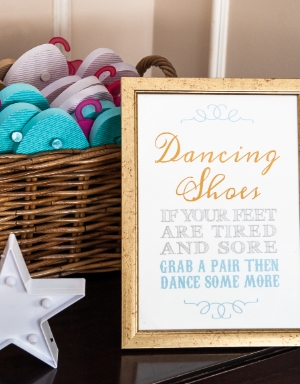 Our colour scheme was sky blue and gold. We incorporated this into all aspects of the wedding, spending a lot of time on the small details that pulled everything together. For instance, our favours were personalised M&Ms in sky blue and ivory.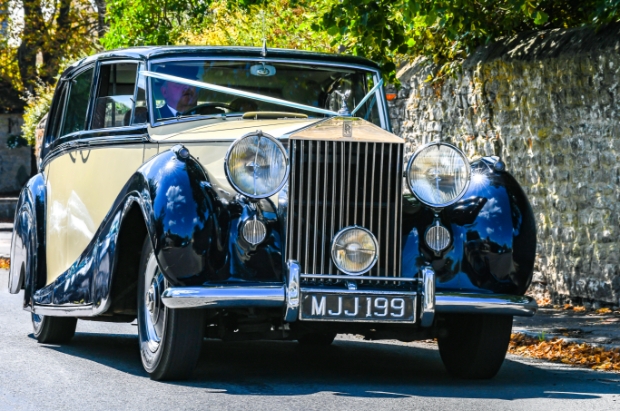 My dad and I rode to the wedding in a gorgeous Rolls- Royce Silver Wraith.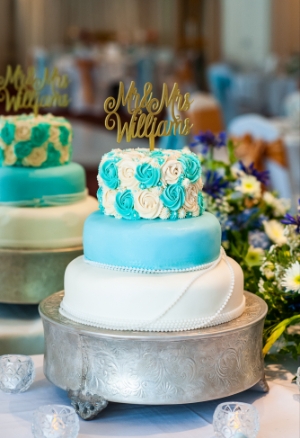 Dot's Bakery in Aylesbury made us a stunning three-tier cake with just four days notice after our original baker fell ill. The cake was decorated in blue and cream buttercream and pearls to tie in with my jewellery and veil.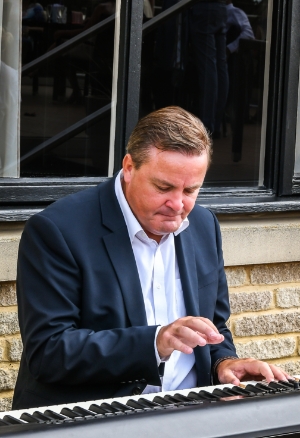 During our drinks reception and wedding breakfast, guests were entertained by Richard Sully on the piano. He played a wonderful mix of modern covers and classics.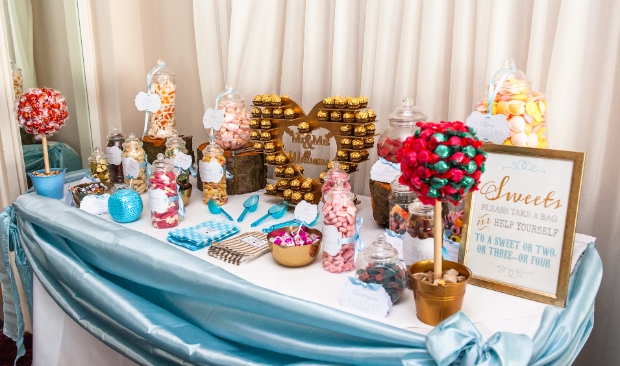 I was really proud to see our sweet buffet. The sweets were labelled in baby blue and cream along with a personalised Ferrero Rocher stand. Our guests loved it, and we only had two jars' worth of sweets left at the end of the night..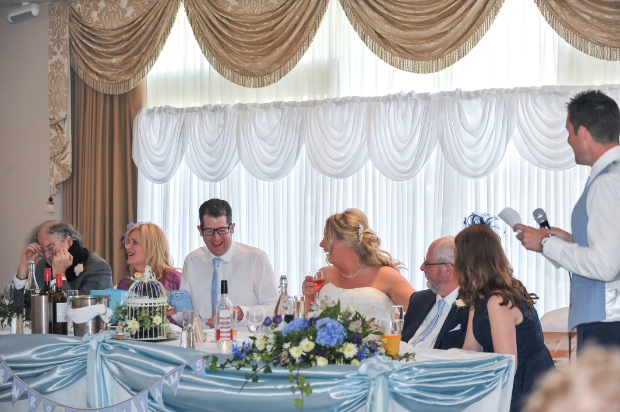 I organised a letter of congratulations from Manchester City for Ross. He has avidly followed the team for years. They said he would definitely be a good husband as he had learned patience through following the progress of the club over the years!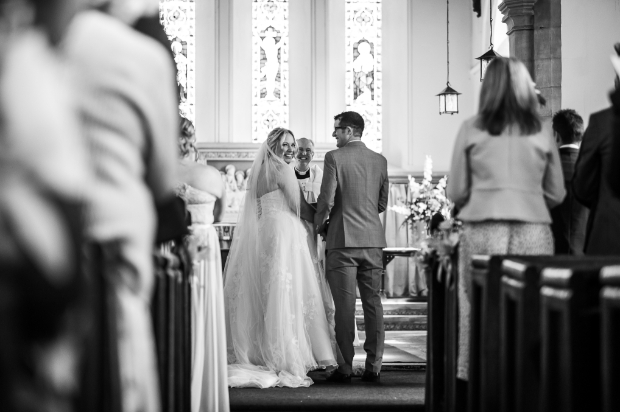 It's so true that your wedding day flies by, but I don't think there has ever been a day when both Ross and I have felt so loved by each other and our family and friends.
Jaq and Ross' contact book