Rebecca and Tom met in halls of residence during their first year of university. "We were in the same friendship group during our fourth year and by the end of it, we had become a couple," Rebecca tells us. "We both had similar interests and enjoyed spending time together. Tom will deny it, but he played the long game and it paid off!"
Tom proposed in December 2018. "He knew that I liked the idea of having a winter wedding and thought it gave us enough time to plan it for the following year," Rebecca tells us. "It came as a complete surprise because he asked me to marry him on a Sunday morning while we were at home - it was perfect."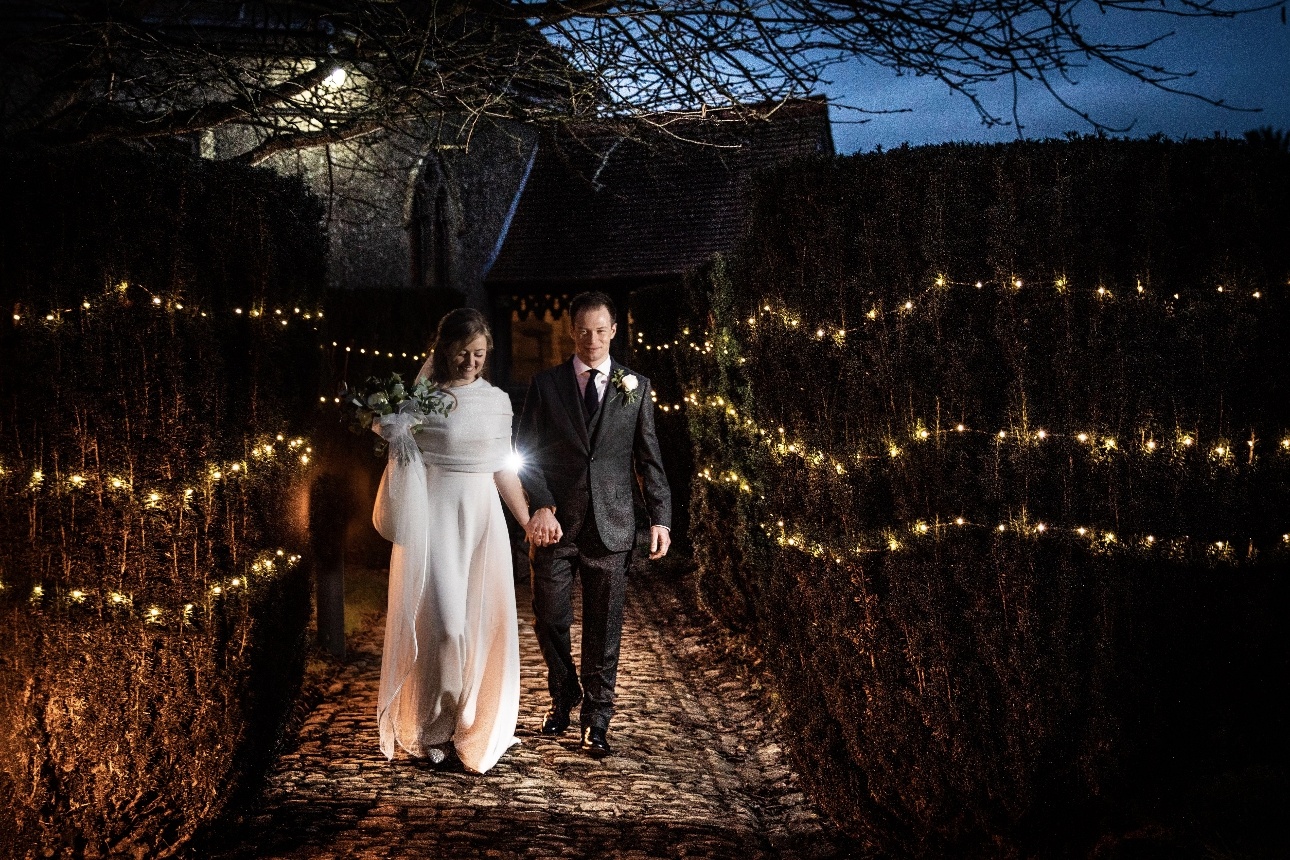 The couple both agreed that they wanted a party vibe rather than a formal wedding. "Tom and I love good food so the most important thing for us was providing plenty of it. We had visited The Pointer for dinner before and not only was the food delicious, we loved the cosy atmosphere of the pub, especially the open fire," Rebecca tells us. "We could imagine the venue decorated with lots of candles and flowers, perfect for a winter wedding, so we decided to get married in the church next door to enable our guests to be able to walk to the reception and stay over at the pub. The manager, Rosie, was wonderful to work with - we couldn't have done it without her."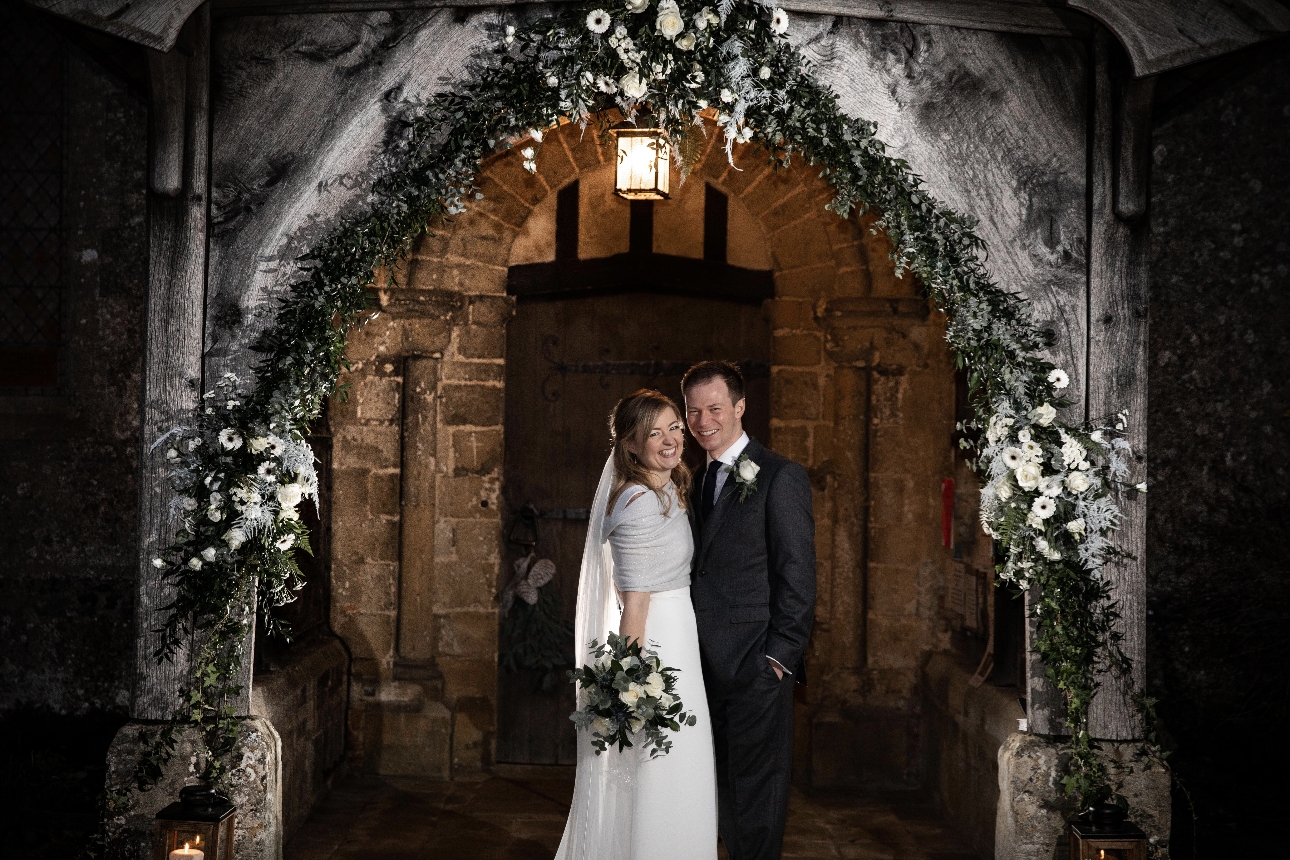 The couple chose to work with different florists. "Stephanie Randall at The Flower Studio created our beautiful bouquets and Bizzie Lizzie Flower Shop made our stunning flower arch," Rebecca explains. "Amber at the local Howe Farm in Dorton designed a beautiful wreath for the door and our brothers lined the bushes from the church to the pub with fairylights which looked so romantic."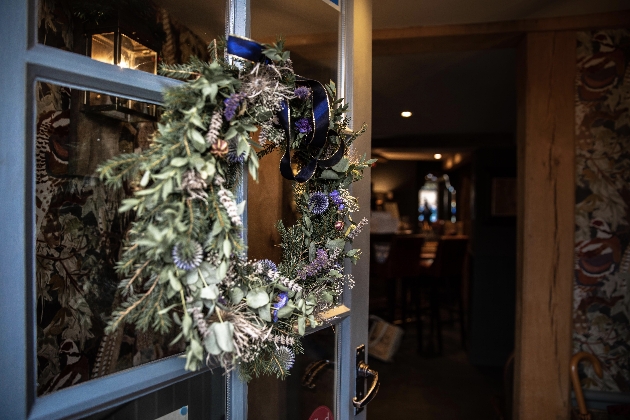 The couple served their guests mulled wine and mince pies in the church whilst they were having their photographs taken, followed by a selection of canapés in the pub before tapas-style dishes and bowl food that just kept flowing throughout the evening.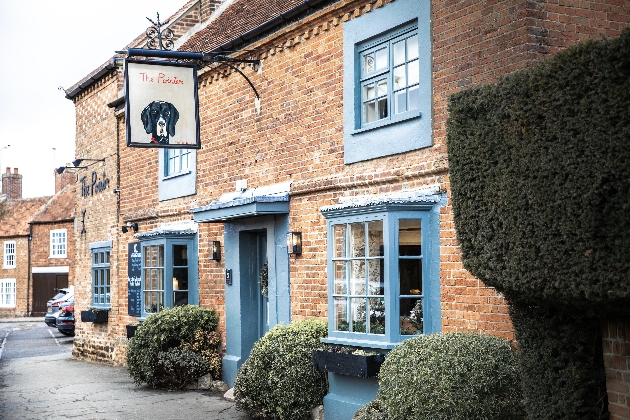 "I think it's fair to say that everybody loved it," Rebecca says. "We filled the dessert table with miniature puddings and a cheese board so that guests could try different things.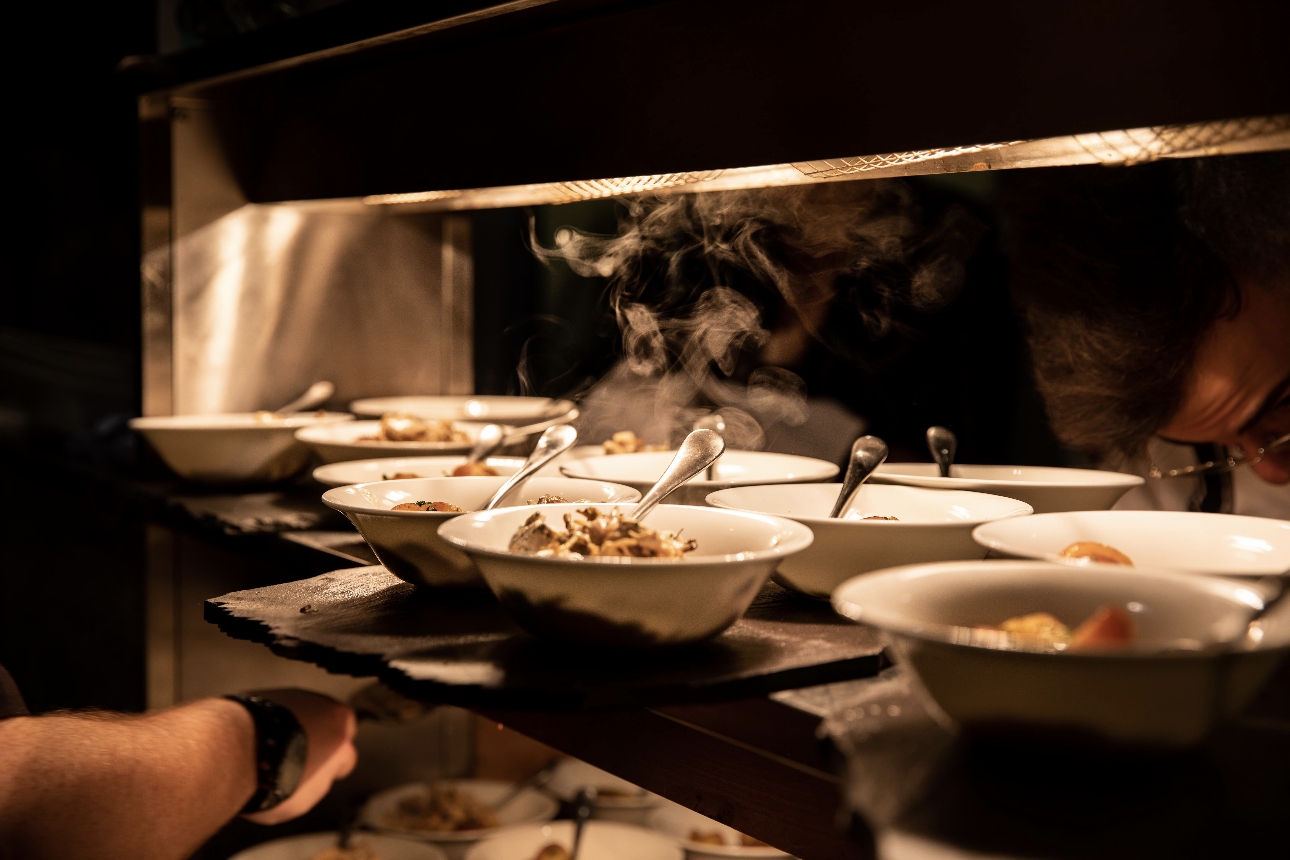 Our wedding cake was made by my very talented friend, Laura, and tasted as good as it looked. This choice of food meant that our guests were able to mingle and, by the end of the night, everyone seemed to know one another which made it so much fun."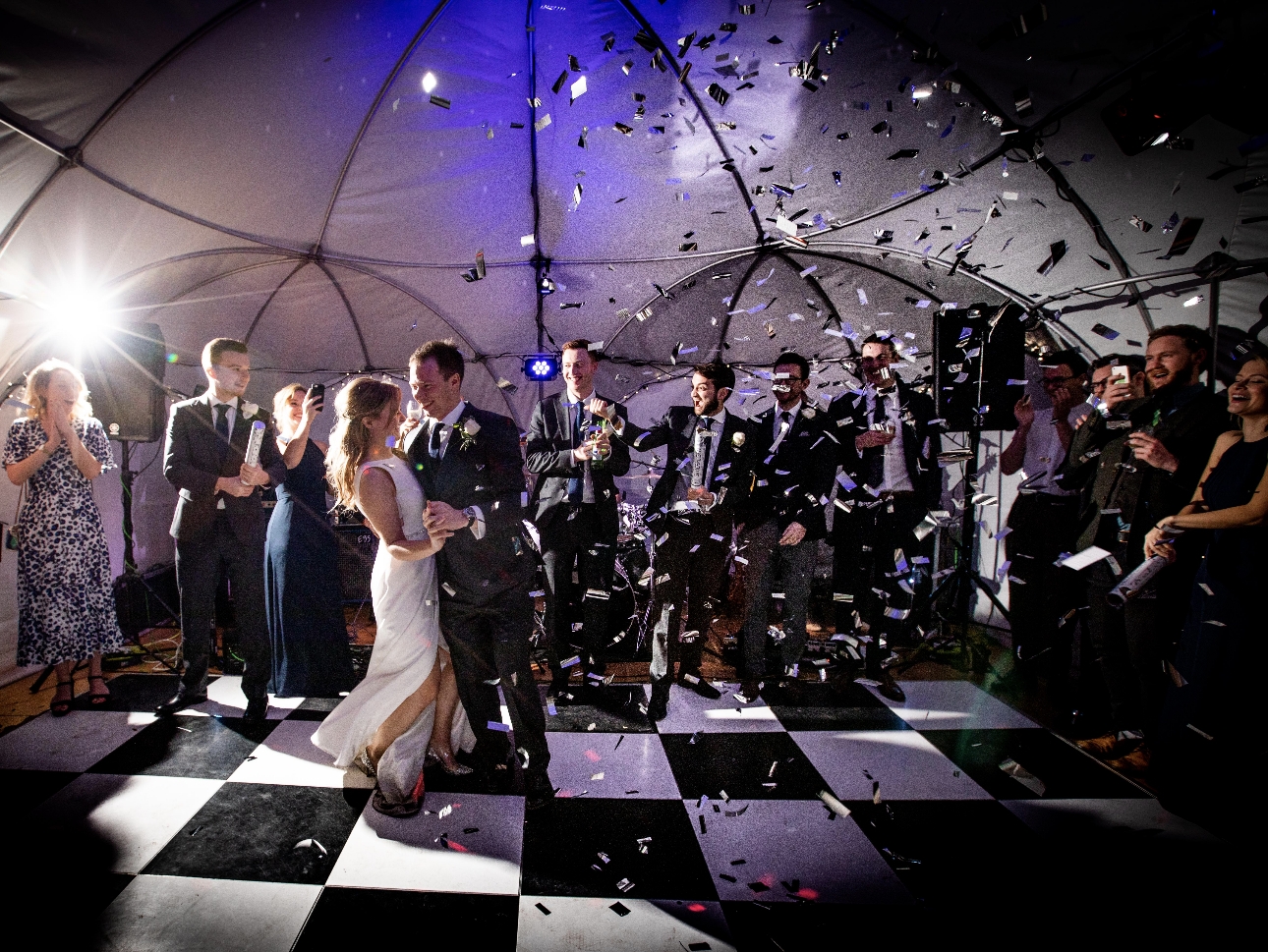 The couple hired a small marquee that was erected in the garden next to the pub and acted as a stage for the band and included a dancefloor.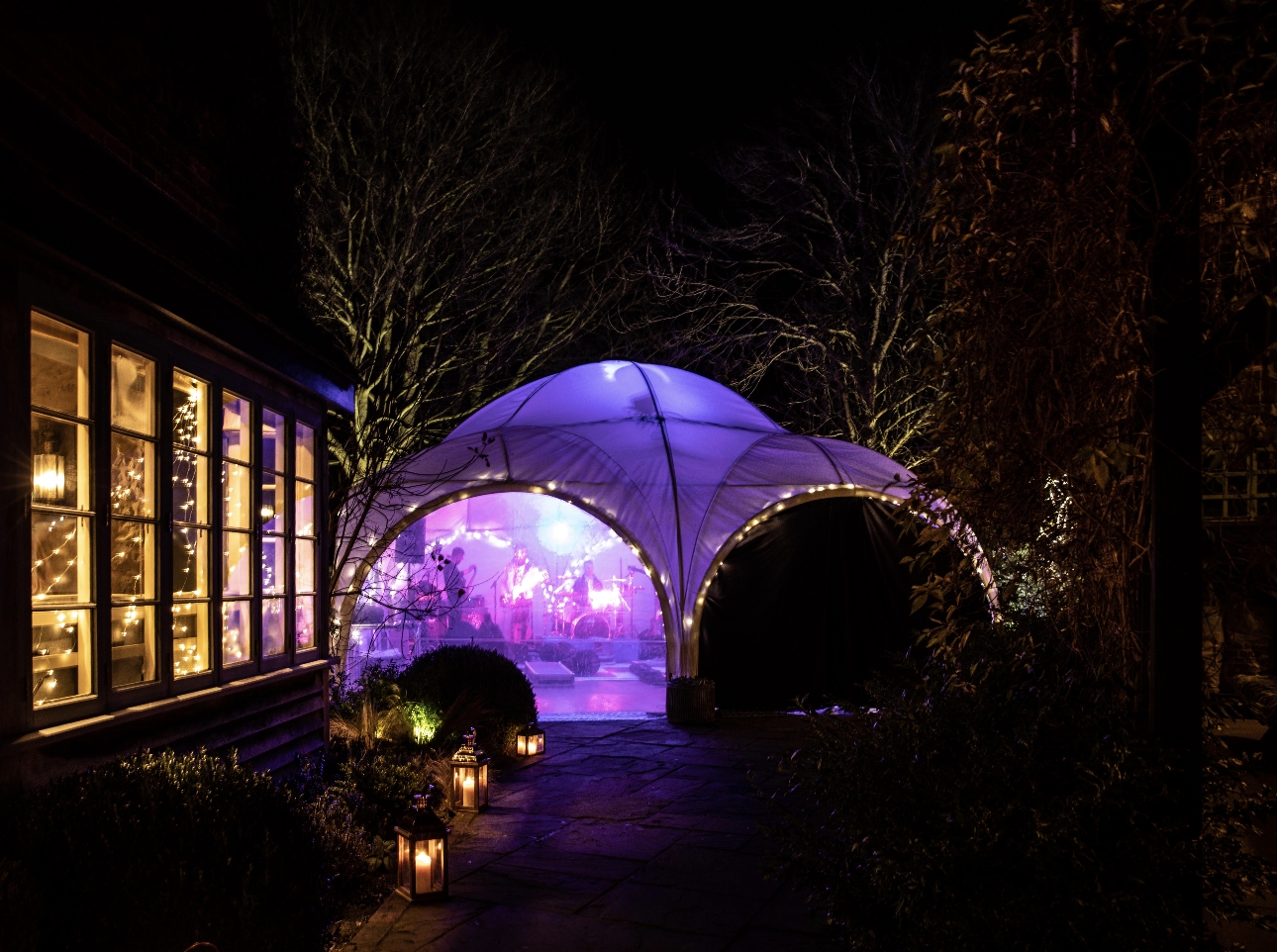 "The marquee company were fantastic to work with and it transformed the garden into a winter wonderland," Rebecca describes. "We filled the marquee with fairylights and draped faux fur rugs over the benches. Having a separate dancefloor seemed to go down very well with our guests who were able to chat in the pub and pop in and out of the marquee as they wished.
We were both a bit nervous about doing something different, but we're so glad that we did. Our day reflected us as a couple and we felt so comfortable and at ease, allowing us to fully enjoy every moment."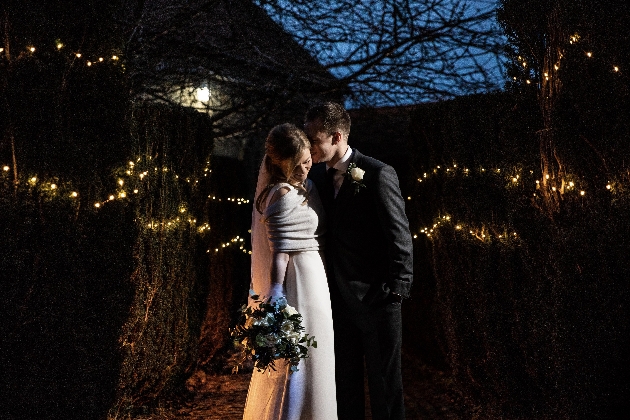 "I wore a dress by the British designer Andrea Hawkes who creates simple yet elegant dresses," Rebecca tells us. "It revealed a split that showed off my statement glittery shoes and I teamed the gown with a cashmere shawl to keep warm, a veil for the church, and a sparkly hair accessory and belt for the party. I also wore a pair of blue earrings that were a gift from my godmother." Tom and his groomsmen enjoyed a shopping trip to London to select their dark-grey suits. "Tom added a waistcoat to stand out," Rebecca tells us, "and our bridesmaids looked beautiful in their navy dresses teamed with a shimmery shawl."
"Tom was very keen to have live music at our wedding and it was an excellent decision," Rebecca explains. "We hired the band called Mad about Tomorrow after listening to their music on their website. Its quite a daunting task selecting the right entertainment but we needn't have worried because these guys were great and we'd highly recommend them to anyone."
Rebecca and Tom's contact book