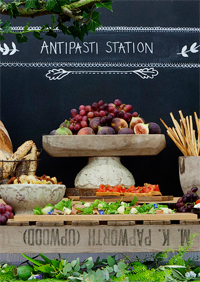 Recipes for success
Q. We don't want to have a sit-down wedding breakfast, but we still want our food to be extra-special. Can you suggest some other big-day catering possibilities?
A. Hannah Martin says: Whilst traditional sit-down menus will always be popular, many of our brides and grooms choose to opt for more informal, but still thoroughly impressive dining choices.

One of our most popular food choices for a relaxed but super-special feast is our gourmet barbecue. Presented to the tables 'family style', guests can serve each other creating a friendly ice-breaker. Other popular options include sharing bowls for your guests – we're talking slow cooked flavour packed meats, rich marinades, delicious Mediterranean dressed salads and artisan breads with dipping oils. Add a chef's hat, carving set, and designate uncle Frank to play carver for the day; it will certainly add an entertainment element to the meal.

Seafood, antipasti or patisserie food stations are tasty, luxurious and impressive. Your caterer can work with your florist to create beautiful stations with props and scented foliage decorative displays. Or what about live food, where chefs create the food in front of your guests? Put on a show with the food and you may not even need to hire evening entertainment!