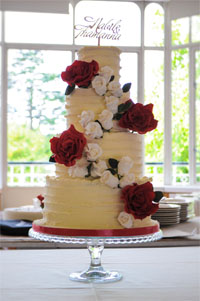 Recipes for success
Q. My other half wants to cut corners and ask an aunt to make the cake, but between you and me, I don't think she's got what it takes. How can I help persuade him that a professional cakemaker is good value?
A. Victoria Forward says: Contrary to popular belief, a wedding cake is not just a cake. A great deal of thought has to go in to the appropriate type of sponge, which is strong enough to hold the icing and be stacked, the stacking structure internally, food hygiene (no fresh cream if out of the fridge for too long) and also allowing enough time to make and decorate the cake without impeding the quality of the bake.

If you think you have a friend of relative who is capable of making your wedding cake, ensure that they have done their homework and up to the pressure of producing your special cake. If you have any doubts, I'd recommend talking to a professional cake maker.

There are ways to keep the costs down; choose simple flavours and designs. A great deal of hidden cost is in the decorating time, so plainer styles will mean less. Plain, dummy tiers can add height to small cakes, without too much cost and kitchen cutting cakes can add to the number of portions without requiring the decorating.

I've seen and heard of so many cake makers called in at the last minute to rescue cakes made by family members who ended up biting off more wedding cake than they could chew! In the long run, cutting corners is not always the best way.