Ask the experts
Here is a selection of Q&As from Your Berks, Bucks and Oxon Wedding magazine. If you would like your question answered by our experts, please email it to editor@yourberksbucksoxon.wedding.
To view more Q&A's on a different topic, please select one from the list below.
Hot topic: Last minute niggles
Our local experts advise on navigating unexpected bumps in the road
---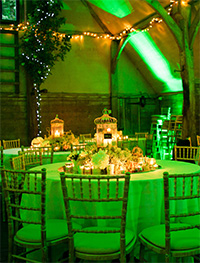 Casting the spell
Q. We don't have any specific theme but are worried our barn venue needs a little extra something for our al fresco summer wedding – what would you suggest?
A. Linda Brooker says: Dress your tables with lots of wood blocks, bark-effect vases filled with pretty blooms, fluffy gypsophila and lots of wildlooking foliage for a rustic-chic look. Or you could go all woodland glam with centrepieces of mercury-toned vases in either silver, gold or copper, filled with pretty pastel blooms in shades of pink, pale peach or champagne, nestled in among wood bark log bases for a twist on the traditional rustic look.

Line your tables with pretty hessian and lace or take on rustic glam with some rose gold sequin table runners. Create a romantic atmosphere with fairylights, candles and lanterns – use lots of assorted candle holders, floating candles and tea light votives for a magical look. Add in colour with bright bunting, Chinese lanterns or pompoms suspended from the ceiling.

Floor-standing flower arches create a statement at the entrance or behind the top table. Large floorstanding vintage crates filled with wild flowers and candle lanterns are great scene-setters.
---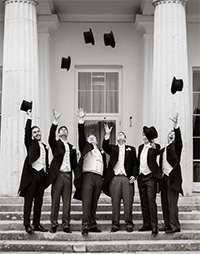 Making good time
Q. We just realised we haven't properly planned the timings for our wedding photos – how can we make sure we've covered the basics?
A. David Bostock says: The key timing is from the end of the ceremony until the guests are called for the wedding breakfast. If you're having everything in one place, then two hours for your drinks reception should give you plenty of time for family photos, couple portraits and other shots. If you are travelling between venues, add that time on; guests will arrive in dribs and drabs if they are driving themselves, so consider going away for your couple shots immediately.

However, the most important factor is how many family group shots and combinations you want to do. No more than six to eight groups will give you plenty of time to mix with your guests and have some beautiful time in the grounds getting some killer images with your photographer.

Buy yourself back time on the day by having a strict list in advance and nominating two people (one from each family) to be responsible for rounding up the next group as one is being photographed. I always allow four to five minutes per group, so eight groups could take up to 40 minutes. Agree a running order and timings beforehand with your photographer, and you will be absolutely fine; just don't cut the champagne reception short, and don't be bullied by the venue into doing so.
---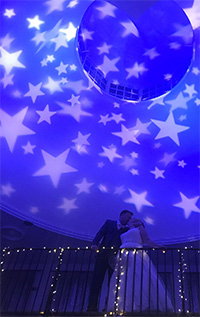 Subtle differences
Q. We've just realised that the sound and lighting isn't up to scratch at our venue – what can we do?
A. Maggie Yates says: There is so much that you can do! Different options are available depending on the type of venue. Country houses can be enhanced with architectural uplighting to illuminate the exterior, together with gas flambeaux for a glamorous entrance. Barns lend themselves beautifully to jaw-dropping lighting canopies and romantic swags. All our canopies are dimmable, so the transition from day to night couldn't be easier. And when used with paper lanterns, they work particularly well in marquees and yurts, injecting a splash of colour on a neutral backdrop.

A fairylight archway with a coach-lantern aisle will guide your guests enchantingly, and outdoor courtyards can be defined with festoon lighting along walls, with dramatic uplighting making a feature of larger trees or statues and fountains.

A high-quality PA system with wireless microphones will get your message across loud and clear. Small speaker systems can be placed discreetly within the venue for playing background music during your meal. And if you are having a band that doesn't have suitable front-of-house PA equipment for the size of your venue, this too can be hired to make the most of the live music experience for your guests.
---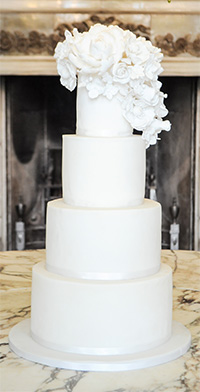 Staying cool
Q. How can we make sure our cake is OK if there's a sudden heat wave?
A. Victoria Forward says: If you have booked an experienced cake decorator, they should know certain tips which can help keep buttercream slightly more stable and purchase good-quality ingredients than can handle the heat and humidity.

Having lived in Australia, I can tell you that making wedding cakes in heat and humidity is no mean feat. A cake with a ganache and fondant coating is more hardy than a naked cake, which has no protection against drying out or melting buttercream in the hot weather. This method was developed in hotter countries for just this reason.

I faced this problem last June, and the picture you see is the resulting cake. I was quick to reassure my bride and groom that I was keeping the cake stable, and this meant, among other things, covering it at 11pm the night before when the heat was finally abating and the white chocolate ganache wouldn't melt. It is definitely worth an extra check on the day to ensure the cake can be placed in a cool part of the room or marquee, away from sunlight. Also, consider cake setup time – it may help if this can be left 'til the last minute.
---
Contact our experts...
David Bostock
Photography
Victoria Forward
Cake decorator
---