Ask the experts
Here is a selection of Q&As from Your Berks, Bucks and Oxon Wedding magazine. If you would like your question answered by our experts, please email it to editor@yourberksbucksoxon.wedding.
To view more Q&A's on a different topic, please select one from the list below.
Hot topic: Wedding worries
Our local experts advise on making those big planning decisions
---
Candid Camera
Q. I'd love my wedding album to be filled with fun and unusual pictures rather than the traditional wedding photography approach. How can we create this?
A. Neale James says: Think about the kind of photographer you intend to employ to do this. Choose someone who is clearly a story teller and take a good long look at their website. What do the first pictures you find tell you? Are they detail photographs, like shoes and rings, formal group pictures and contrived posed images, or are they pictures that convey the emotion of a day and connect you with the strangers on a page you're looking at? If it's the latter, then in terms of the question above, this could be the best choice of photographer for you. Remember though, that you don't necessarily need to create fun. Your wedding day is an amazing experience, there is little else in life that compares to the feelings you will encounter. Enjoy the day, don't force it, be natural and let the photographer you choose tell your wedding story authentically?
---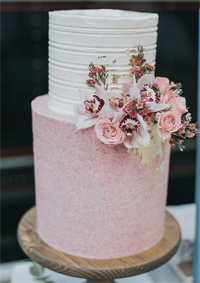 A slice of the action
Q. We want our cake to have the wow factor, but are out of ideas. What 2018 trends do you think would work?
A. Vanessa Parkes says: Why not add colour to a tier? This will complement the other colours used in your wedding and help tie the elements of your day together. Pick an ombre effect for a subtle play on colour, or request real fruit powders for a lovely, natural freckled effect. Playing with tier heights is another great way to impress.

While fondant still has its place, buttercream cakes are storming the wedding world. Every bite is moist and delicious, and the design opportunities are endless – semi naked, textured and even watercolour effects are all hugely popular. Metallics are still hot. Add a few touches of gold leaf to brighten and catch the eye. Lastly, a carefully positioned bouquet of beautiful, fresh blooms, when added to your cake in a foodsafe method, could be the perfect finishing touch.
---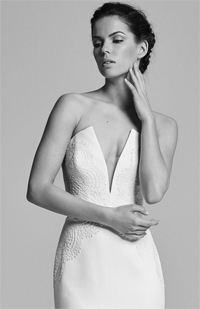 Best dressed
Q. I can't wait to get married and want to get it all wrapped up within the next 12 months. On average, how many bridal fittings should I attend, and when I should I start looking for the one?
A. Ellie Sanderson says: The most important thing to do before you start trying on dresses is research. Think about your wedding style and what you want to spend, then select a few well-rated bridal boutiques. Make sure their collections are different to get a broad range. Most brides try on around 20 dresses, but many end up buying the first one they tried on, so trust your instincts and trust the stylist.

Don't forget that most dresses are made to order and take anything from six to nine months to come in, so starting about one year before your wedding is perfect timing. Also, it's good to talk to the shops before you book your appointment to get a feel of who they are and what kind of customer experience they will offer you. Don't forget that designer boutiques will charge a small fee for a one-to-one consultation with a trained stylist, but this is well worth the money.
---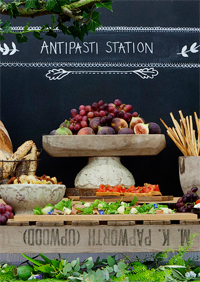 Recipes for success
Q. We don't want to have a sit-down wedding breakfast, but we still want our food to be extra-special. Can you suggest some other big-day catering possibilities?
A. Hannah Martin says: Whilst traditional sit-down menus will always be popular, many of our brides and grooms choose to opt for more informal, but still thoroughly impressive dining choices.

One of our most popular food choices for a relaxed but super-special feast is our gourmet barbecue. Presented to the tables 'family style', guests can serve each other creating a friendly ice-breaker. Other popular options include sharing bowls for your guests – we're talking slow cooked flavour packed meats, rich marinades, delicious Mediterranean dressed salads and artisan breads with dipping oils. Add a chef's hat, carving set, and designate uncle Frank to play carver for the day; it will certainly add an entertainment element to the meal.

Seafood, antipasti or patisserie food stations are tasty, luxurious and impressive. Your caterer can work with your florist to create beautiful stations with props and scented foliage decorative displays. Or what about live food, where chefs create the food in front of your guests? Put on a show with the food and you may not even need to hire evening entertainment!
---
Contact our experts...
Ellie Sanderson
Bridalwear Retailer
Hannah Martin
Event planner
Vanessa Parkes
Cake designer
---