Why you should buy issue 72 of Your Berks, Bucks and Oxon Wedding magazine...
August/September 2018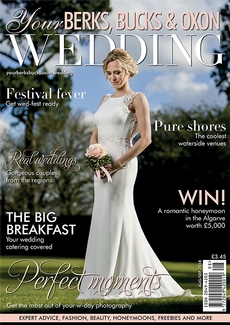 Algarve competition
Win a romantic honeymoon in the Algarve worth £5,000
Adventures in wonderland
Aimee and Baz's Alice-themed big day at Missenden Abbey was full of lovely, quirky touches
Start with a bang
Ludmila and Karnell's fireworks-night wedding at Hedsor House sparkled with delight
Safari of love
Holly and Darren brought together the best of England and South Africa for their vintage affair at Fawley Hill
Reading and East Berkshire
Stylish spots in which to wed
Pure shores
Tie the knot in a cool waterside setting
Come together
Teamwork can make the dream work, as shown in our fabulous styled shoot at Hampden House
Perfect moments
Get the most out of your w-day photography
Pets at weddings
There are lots of ways you can include pets, from your hen do right through to your honeymoon
Hot summer buys
These decorative items are perfect for an al fresco wedding
Emerging designers
Make sure you're following these bridal brands
A splash of colour
These colours are #trending right now and are perfect for brides and their maids
Match made in heaven
Fragrances for him and for her, creating the ultimate big-day pair
eMagazine
Available to download NOW for only £1.49
Printed Copy
(inc. free eMagazine)
In Stock
Click here to use our online ordering service
---
Buy a copy
There are 5 different ways to buy Your Berks, Bucks and Oxon Wedding magazine.
Click here to view some sample pages from an eMagazine
To order the latest copy of Your Berks, Bucks and Oxon Wedding magazine or to obtain back issues, click here.
Alternatively call us to order your copy, post-free for just £3.45, on 01376 514000
Read Your Berks, Bucks and Oxon Wedding magazine in electronic format for just £1.49 per copy (Smartphone and Tablet compatible) click here
You can subscribe for just £17.60!
Annual subscription (6 issues)
Save over 15% off the normal cover price
FREE postage and packing
Receive each issue as soon as it is published
To order your subscription, simply call us on 01376 514000 or click here
Alternatively, click here to order an eSubscription for just £7.60
4. Buy a copy from a retail outlet
Your Berks, Bucks and Oxon Wedding magazine is available from newsagents and supermarkets.
However, if you do have problems, or if your newsagents has sold out, then call us!
We'll send your copy to you post-free for just £3.45 inc P&P. Simply call us on 01376 514000
5. Overseas Orders
For non-UK customers, please email admin@county.wedding for full details.
---