Why you should buy issue 73 of Your Berks, Bucks and Oxon Wedding magazine...
October/November 2018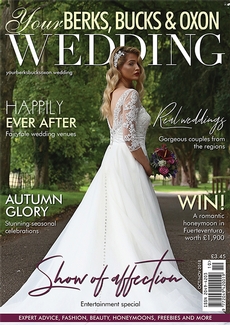 Competition
Win a romantic honeymoon in Fuerteventura, worth £1,900
North Bucks & North Oxon
Stylish spots in which to wed
Happily Ever After
Tie the knot in a fairytale setting
Til death do us part
Be inspired by our Gothic photo shoot and celebrate things your way on your big day
The loveliness of the long-distance runners
Zoe and Aaron's wedding journey began with a half-marathon and ended in the the splendour of Dorton House
Love is all around
Lisa and Gareth shared the joy with their loved ones on their special day at Easthampstead Park
All of me
Love was in bloom for Hannah and Tom's big day at Stoke Place
Fashion focus
Fashion editor Claire Ridley reveals her latest bridal fashion news, buys and launches
Lip service
Pucker up with these products
Wedding traditions
From cutting the cake to the first dance, we discuss popular traditions and where they originated from so you can make an informed decision about which ones you want to keep
Dress to impress
The pick of seasonal trends for the bridal party
Seasonal shades
Be inspired by warm autumnal tones and on-trend metallic lustre
eMagazine
Available to download NOW for only £1.49
Printed Copy
(inc. free eMagazine)
Out of Stock
Click here to use our online ordering service
---
Buy a copy
There are 5 different ways to buy Your Berks, Bucks and Oxon Wedding magazine.
Click here to view some sample pages from an eMagazine
To order the latest copy of Your Berks, Bucks and Oxon Wedding magazine or to obtain back issues, click here.
Alternatively call us to order your copy, post-free for just £3.45, on 01376 514000
Read Your Berks, Bucks and Oxon Wedding magazine in electronic format for just £1.49 per copy (Smartphone and Tablet compatible) click here
You can subscribe for just £17.60!
Annual subscription (6 issues)
Save over 15% off the normal cover price
FREE postage and packing
Receive each issue as soon as it is published
To order your subscription, simply call us on 01376 514000 or click here
Alternatively, click here to order an eSubscription for just £7.60
4. Buy a copy from a retail outlet
Your Berks, Bucks and Oxon Wedding magazine is available from newsagents and supermarkets.
However, if you do have problems, or if your newsagents has sold out, then call us!
We'll send your copy to you post-free for just £3.45 inc P&P. Simply call us on 01376 514000
5. Overseas Orders
For non-UK customers, please email admin@county.wedding for full details.
---