Ask the experts
Here is a selection of Q&As from Your Berks, Bucks and Oxon Wedding magazine. If you would like your question answered by our experts, please email it to editor@yourberksbucksoxon.wedding.
To view more Q&A's on a different topic, please select one from the list below.
Hot topic: Budget special
Our local experts advise on getting value for money
---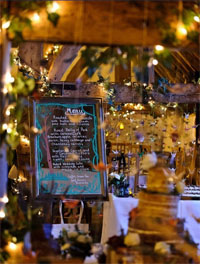 Giving back
Q. What can we give our guests to show them what they mean to us and thank them for coming without wasting our money on something tatty that will just get thrown away?
A. Julia Price says: You can tell your wedding guests in their invites that you've chosen a special way to thank them for sharing your wedding day in lieu of giving unwanted favours, by making a donation to your chosen charity or have a sign displayed on the day.

Some wedding couples do this by way of a poem about their chosen charity, expressing how the finest gift is one which helps others live longer and healthier, tied to a guests napkin or displayed in a photo frame on the present table. Some charities provide pin badges, trolley token key-rings or mini cards as useful favours announcing what the donation has gone towards. There is a wealth of choice out there from children's charities, animal, UK health, humanitarian crisis and cancer support and research charities; all doing outstanding work. What better way to share and document your love for each other?
---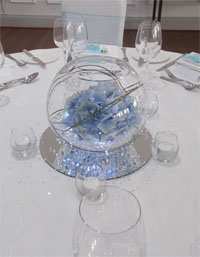 Natural and easy
Q. We really want professional help with our flowers and venue dressing, but don't want it to cost the earth – what are our options?
A. Serena Honke says: Having professional help with your flowers and venue dressing is always a good idea, as it takes the pressure off the bridal party both in the run up to and on the day of the wedding itself, leaving you time to enjoy the preparations with your family and friends without worrying about getting everything looking beautiful. It doesn't have to cost a fortune and the way to achieve this is to keep it simple. Uncomplicated, classic designs in both bouquets and displays not only look chic but are cost effective too. Use flowers which are in season and choose a smaller selection, as this not only creates cohesion throughout the designs but is also more budget conscious.

Keep your table centrepieces simple too: a fishbowl vase with gel beads, a single head of hydrangea and beargrass – these are pretty and romantic. If you'd like to add some drama and extra wow factor, maybe use one or two larger pieces in specific places, for example, on the gift table. But always remember that this is your special day. Give yourself the time to appreciate every precious moment and let the professionals worry about the rest.
---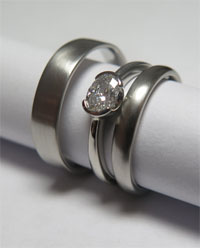 Priceless experiences
Q. We want our wedding rings to be as beautiful and as personal to us as possible, but we don't have megabucks – any useful advice?
A. Roz Prest says: Wedding rings are not your normal fashion jewellery purchase. They need to stand the test of time. What you like now may seem very different in ten or fifteen years. For that reason you need to think long term and invest wisely in something that has more lasting appeal to you both. This doesn't mean wedding rings need to be expensive. You could even make your own or each others during a day in a jewellery workshop. This is a truly personal experience, adding extra sentimental value money just can't buy.

The experience of designing something for yourselves creates lasting memories allowing you to reflect your own personalities and evolving relationship in a way mass-produced jewellery can't. Alternatively you can add a personal touch by having bespoke rings made for you by an expert jeweller. Bespoke also allows you to plan for future alterations to your wedding rings for instance by adding diamonds or engraving, when you might have more money or extra reasons to celebrate. A good bespoke jeweller will work to your current budget, advise to suit your specific requirements, make you something you will love & add investment for the future.
---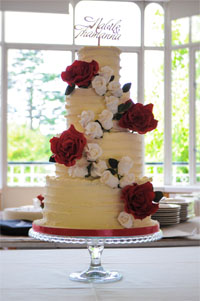 Recipes for success
Q. My other half wants to cut corners and ask an aunt to make the cake, but between you and me, I don't think she's got what it takes. How can I help persuade him that a professional cakemaker is good value?
A. Victoria Forward says: Contrary to popular belief, a wedding cake is not just a cake. A great deal of thought has to go in to the appropriate type of sponge, which is strong enough to hold the icing and be stacked, the stacking structure internally, food hygiene (no fresh cream if out of the fridge for too long) and also allowing enough time to make and decorate the cake without impeding the quality of the bake.

If you think you have a friend of relative who is capable of making your wedding cake, ensure that they have done their homework and up to the pressure of producing your special cake. If you have any doubts, I'd recommend talking to a professional cake maker.

There are ways to keep the costs down; choose simple flavours and designs. A great deal of hidden cost is in the decorating time, so plainer styles will mean less. Plain, dummy tiers can add height to small cakes, without too much cost and kitchen cutting cakes can add to the number of portions without requiring the decorating.

I've seen and heard of so many cake makers called in at the last minute to rescue cakes made by family members who ended up biting off more wedding cake than they could chew! In the long run, cutting corners is not always the best way.
---
Contact our experts...
Julia Price
Wedding and events manager
Victoria Forward
Cake decorator
---