Ask the experts
Here is a selection of Q&As from Your Berks, Bucks and Oxon Wedding magazine. If you would like your question answered by our experts, please email it to editor@yourberksbucksoxon.wedding.
To view more Q&A's on a different topic, please select one from the list below.
Hot topic: Entertainment special
Our local experts advise on how to keep your guests happy
---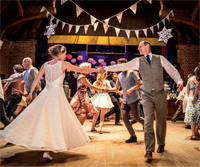 Getting in tune
Q. We want live music at our wedding, but we've heard some horror stories about prima donnas who won't engage with the guests. How can we make sure that the band is right for us?
A. Paul Smith says: I would say first read the reviews. These days most wedding bands will either have a link on their website to a review site or will publish a few phrases they have chosen for themselves from reviews and letters they have received from satisfied clients. What they won't do of course is publish the bad reviews. So it's always best to trust the independent ones. Just google the name of the band you're thinking of and the word 'reviews' and up they will pop. If the band has had great reviews for interacting with the wedding guests you'll soon be able to tell. Are they the sort of people you want to invite to what is probably the most important day of your life so far? Then, if the reviews are favourable, give them a ring. I know it's quicker and easier to email but if you really want to get an idea of how confident and friendly they are when dealing with people you will get a much better idea through speaking to them and judging for yourself. If you like the way they interact with you it's probable they will be just as friendly with your lovely guests.
---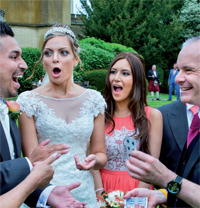 Working wonders
Q. When is the best time for wedding magic? I don't mean this metaphorically – we've hired a magician!
A. Paul Megram says: There are four specific areas that magic can work wonders for a wedding:

1. While the photographs are being taken: this can be a lengthy process, depending on your photographer. However it's a great time for 'mix'n'mingle' magic, especially for larger weddings, and this can only add to the excitement.

2. During the meal: the perfect opportunity for magic while everyone is seated at the tables. Although the meal may last up to two hours, the actual eating will only take about 15 minutes, which gives plenty of time for a magician to work their magic.

3. After the speeches, but before the evening guests arrive: this is the first chance that many of the guests will have to stretch their legs. Some people are bound to miss the action, but it will enhance what is typically a quieter part of your day.

4. During the evening reception: often the busiest time and is only possible if there is more than one room. One for those who want to chat and watch the magic, while the band or disco are entertaining the revellers on the dancefloor.

Any good magician will be happy and flexible to fit into your plans in whatever way you feel would benefit you and your guests the most.
---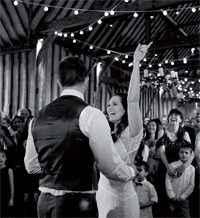 Sound and vision
Q. We're worried about the quality of the lighting and audio in our reception venue – any suggestions on how we might improve things?
A. Maggie Yates says: Often overlooked, beautiful lighting and high quality sound can add that special something, from creating the perfect backdrop for the first dance with dramatic lighting canopies to fabulous dancefloor lighting. Here at Academy Productions we offer bespoke hire, helping to create a day as individual as you are. With the emergence of social media such as Instagram and Pinterest, you can envisage a wider range of possibilities for the look and feel of your day, and we can work together to find something that truly reflects your vision.

With a blank canvas of a barn, our speciality, the venue can be completely transformed with different types of lighting. LED uplighters can be in any colour to match your scheme, and as they are wireless and produce very little heat, can also be used close to fabrics, drapes and foliage. Lighting canopies can create either a soft, romantic feel with warm fairy or traditional festoon lights or a winter wonderland theme, with cool, ice-white fairylights. With a professional sound and lighting company at work, you can fully relax and enjoy your special event.
---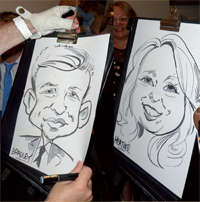 Drawn to the action
Q. We're looking for something a little bit different for our big-day entertainment – any suggestions? Some of our guests won't know each other, so anything to help break the ice would be great.
A. Robert Lee Hensby says: A wedding caricaturist is the perfect entertainment for between proceedings, during the photographs or at the wedding reception, and can serve as a fantastic ice-breaker for your guests. It's worth noting that while not everybody will want to be drawn many guests will find it just as entertaining ribbing the 'victims' as they are being immortalised in front of them, providing a great talking point.

There are plenty of caricaturists to choose from, so always visit their websites to check out samples of their work and what they offer. Some may even provide game-changing extras – my portraits are pre-printed onto the canvases, giving guests a personalised memento to take away, and I can also offer free framed portraits of the happy couple, drawn prior to the event from photos and presented on the day; long after the photo booth has been dissembled and the DJ has set off back home, your guests will still be talking about the wedding caricatures.
---
Contact our experts...
Robert Lee Hensby
Wedding caricaturist
---