Ask the experts
Here is a selection of Q&As from Your Berks, Bucks and Oxon Wedding magazine. If you would like your question answered by our experts, please email it to editor@yourberksbucksoxon.wedding.
To view more Q&A's on a different topic, please select one from the list below.
Hot topic: Summer weddings
Our local experts help solve your last minute woes
---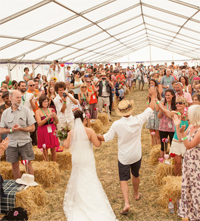 Take a weight off
Q. My daughter's having an al fresco reception in our garden, but she's invited so many evening guests, I don't know what to do in terms of seating and general chilling out. Any ideas?
A. Steve Frost says: Don't panic! There are plenty of options out there. If you want something more formal than trestle tables, chiavari chairs could be an option, or rattan garden furniture. If you wanted a more relaxed area for guests, then you could go for pallet seating, picnic blankets, bean bags, deckchairs or even hay or straw bales. There are many options available, but it may be worth considering which would work best for you, thinking about the look, feel and atmosphere you're trying to create. Also, take into account the budget you have available and which option will work with this. And don't forget to factor in how many people you can fit on each item you borrow, hire or buy for the al fresco reception.
---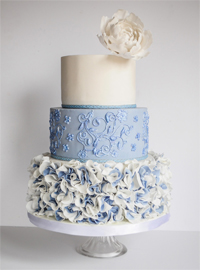 Heat resistant
Q. We're planning a big summer wedding, and if there's a heatwave, I'm wondering what kind of cake will stand up best?
A. Victoria Forward says: Having lived in Australia, I can tell you that making wedding cakes in heat and humidity is no mean feat. I'd recommend a cake with a ganache and fondant coating. This method was developed to deal with heat and gives a great, smooth coating around the cake, which can be decorated in any fashion to suit your theme.

Although they're popular and look so pretty, a naked cake has the tendency to dry out in hot weather; fresh flowers can wilt, and fresh fruit softens to mush, while buttercream can also become unstable, melt and leak out of the layers. If you have warning of a heat wave, it may be worth discussing 'emergency options' such as stabilising buttercream (with the addition of certain products like pasteurised egg white), and even the addition of extra structures such as central dowels which keep the cake more stable if you have a soft filling. Finally, consider the positioning of your cake. Make sure it's not left in direct sunlight or a sweltering marquee for hours before cutting.
---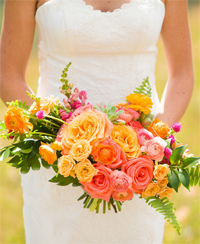 In bloom
Q. After a whirlwind romance, we're planning a wedding at short notice, and I haven't done anything about the flowers! What are your suggestions in terms of on-trend summer florals?
A. Sarah Bird says: This summer, pastels seem to be the favoured colour palette for our brides-to-be. Blush and pale pink roses, peonies, gypsophila and white hydrangeas work well for large impact and are classic romantic colours. Ranunculus are always beautiful and come in a fab range of colours, from subtle pastels to hot oranges and pinks. David Austin roses and orchids are some of the most stunning flowers to use in bridal bouquets but are expensive. If you're having a more tropical theme then I'd suggest birds of paradise with large palm leaves; a visual feast and perfect for a sun-drenched beach wedding. Eucalyptus and succulents are great too, adding a wonderful soft green/grey hue and lovely texture to any bouquet or arrangements.
---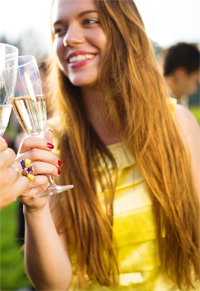 Endless variations
Q. While I've sorted out what I'm wearing for my big day, I'm not at all sure about what to wear at the other weddings I'm attending this summer. Can you help?
A. Karin Timothy says: While it would be lovely to have a different outfit for every occasion, this can be costly. Think about separates; buying either a trouser or skirt and jacket or top combination will be more versatile to mix and match and create an entire new look.

If you know your colour and style then you can never go wrong. Your best colours will always enhance your look, making you look radiant. Use two of your best neutral colours and then add a splash of colour for each new look. And when it comes to accessories, the possibilities are endless, with jewellery, hats, scarves, shoes or handbags. The wonderful thing about weddings is that they're truly unique. Inside, outside, formal, casual, church, back garden. Try to tailor your outfit to the wedding. For instance, if you're sitting on bales of hay and barn dancing, you may want something less structured for those dosey doe moves!
---
Contact our experts...

Karin Timothy
Colour analyst and personal stylist

Sarah Bird
Florist

Steve Frost
Supplier of party bales and prop hire

Victoria Forward
Cake decorator
---