Ask the experts
Here is a selection of Q&As from Your Berks, Bucks and Oxon Wedding magazine. If you would like your question answered by our experts, please email it to editor@yourberksbucksoxon.wedding.
To view more Q&A's on a different topic, please select one from the list below.
Hot topic: Winter weddings
Local experts offer stellar advice on winter weddings
---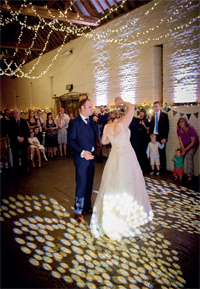 Barn dance
Q. How do you suggest I style our big barn venue to bring the space alive for a great big end of year celebration?
A. Claire Cole says: A barn can be quite a daunting space to dress. Couples often tell me they have no idea where to start with dressing such a large space.

Lighting makes a huge impact to a barn: a fairylight canopy, hanging paper lanterns on the celling and coloured uplighters against the walls highlight the rustic barn and will give a real wow factor. I love a luxe look against the backdrop of a rustic barn; sequin table cloths or runners with lots of candles add some sparkle, ideal for a New Year's Eve celebration.

If you can, opt for long tables with lots of small flower arrangements along the middle of the table, and add dinner candles and tea lights for a romantic feel. A sparkler send-off would be a great end to the night.
---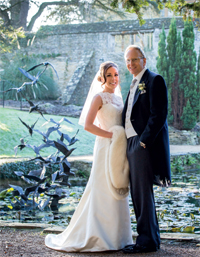 White wedding
Q. We're getting married in December and I'd love our pictures to look seasonal. How can I get the most out of the festive time of year?
A. David Bostock says: Should you be lucky enough to have some, the quality of sunlight at a December winter wedding is just beautiful. Nothing is harsh like summer sunlight; the weak sunshine casts a soft wash over everything, and it is very directional, with the sun just moving around low in the sky as the day progresses. This creates beautiful wintry pictures, often with your breath showing in the air.

In December, sunset is before 4pm, so it will start to feel dark from 3pm. Ask your photographer if you can have your couple portrait shots outdoors early on, as soon after the ceremony as you can. The family groups can always be done later inside. Even if it's sunny, you'll probably find that your guests will not be keen to go outdoors and will stay near the roaring fires. Often your wedding venue will be filled with sparkling trees and lights and these can all be used in your photos to get the festive look. Make sure your photographer captures these little details. Finally, if you're lucky enough to have snow on your wedding day then embrace it; you'll have pictures only a few lucky couples get.
---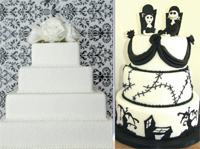 A slice of the action
Q. I want our cake to tie into our Christmas theme – how do you suggest we do this?
A. Nelmarie Rennison says: Start with a brilliant white covered cake. This is the perfect base upon which to build your idea. Use your wedding dress, bridesmaid dresses and the reception room decorations as inspiration. Will it be a traditional white, red and green theme, with Christmas ribbons, flowers and even gingerbread houses/men? Or do you want to create your own little winter wonderland?

For one such creation, we used a diamanté trail and a diamond broach to reflect the shimmer of snow in lantern light. The fur around the bottom tier was a reflection of the fur around the bride's winter mantel. For another, we imagined the tracks sleighs leave dashing through the snow. This was created with hand piped cornellil lace work on two tiers. Another quirkier design was based on The Nightmare Before Christmas.

Imagine yourself in your wedding dress standing in your venue, fully decorated. Using the decorations around you, imagine picking up carefully selected items and adding them to your cake. In no time, you and your designer will create your perfect Christmas-themed wedding cake.
---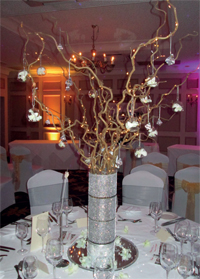 A final flourish
Q. How can I create a classic winter wonderland look with my flowers?
A. Serena Honke says: For me, a winter wonderland always evokes thoughts of crisp winter mornings with touches of frost glistening in the cool, morning sun. It's a beautiful style to have for a winter wedding. Use a simple colour palette with tones of white to keeps the whole look crisp. Bring accents of silver and sparkle to create a note of drama and luxury and add earthy tones of twisted willow and pine cones to bring a hint of winter woodland too.

White flowers that are easily available in the winter months include roses, anemones and rununculus. Silver-toned greenery (for example, senecio, brunia and eucalyptus) is at the heart of this soft and romantic look. The use of clouds of gypsophila can create a look of puddles of snow while the use of diamanté and crystals can enhance the overall effect.

For both your bouquet and your table centrepieces, less is more with this style. Keep everything simple and striking, and it will result in a classic and chic winter wonderland wedding.
---
Contact our experts...
Claire Cole
Venue stylist
David Bostock
Photography
Nelmarie Rennison
Cake maker
---