Ask the experts
Here is a selection of Q&As from Your Berks, Bucks and Oxon Wedding magazine. If you would like your question answered by our experts, please email it to editor@yourberksbucksoxon.wedding.
To view more Q&A's on a different topic, please select one from the list below.
Hot topic: Luxe be a lady
Our experts on creating a classy celebration – whatever your budget
---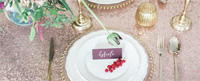 Love luxury
Q. I'd love to spoil my guests and create a really luxe feel on my big day, but like most brides, I'm working on a budget. Where should I spend to make sure the day is spectacular?
A. Claire Cole says: Putting together a luxury big day on the average wedding budget is very achievable. First of all, you need to consider your colour palette – some colours have a more luxurious feel such as taupe, champagne, dusky pink and metallic tones.

Using sequin or rosette linens really gives an expensive feel, but these can be pricey to hire, so think about using sequin table cloths for the top table and cake table and sequin runners on the guest tables, as this will achieve a similar look but only at a fraction of the price.

Lighting can transform a room: a light canopy, uplighters and lots of candles on the tables all serve to create a soft romantic feel. Remember that less is sometimes more, so consider fewer, well thought-out decorations rather than picking everything you like, as costs soon add up.

Finally, seek advice from a wedding stylist; we're here to help you achieve the look you want for the budget you have in mind.
---
Lights, camera, action!
Q. My partner and I would love our big day to be on film. What should we look for in a videographer?
A. Nic Morgan says: Every videographer should be passionate, enthusiastic and excited about filming your big day. During the first consultation show them the location and see if they talk about lighting, shot ideas and possible sound issues. If they're showing this level of care and attention to your big day you'll be in safe hands.

Take Creative Pie Films for example. We're two film and TV lecturers who really enjoy what we do. We're always thinking about the technical and aesthetic aspects of a shoot and how to make things look the best they can, and we geek out about the latest technologies such as gimbals, tracks and editing software.

Technology within video and film production has moved on so much that high end production values are more accessible and affordable to achieve. Query your videographer about their kit and don't be afraid to ask the question, "What does that do?" And finally a love of film and the craft is a key quality of any videographer. Ask them what their favourite film is, and if a long discussion ensues… book them!
---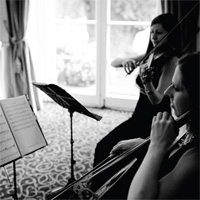 Let me entertain you
Q. We'd love to have live music as part of our big day, but we're dubious of just hiring someone off the internet. How can we make sure we make a wise investment?
A. Julia Roberts says: Booking suppliers online is becoming more and more common but for such an important part of your day, it can feel like quite a risk. There are small things to look for when choosing your musicians. How experienced are they? Do you like the way they look? Remember that the style of the group can be just as important.

Look for comments and feedback from previous clients. Do they have many? How often have they played? Are they up to date?

One word of warning: beware the hidden costs. Here at the Sorelli Duo we have a 'no extra costs' policy but many musicians charge for their travel costs and time, so be sure to ask about this.

Finally, listen to them! All good musicians should have some sample tracks on their websites. We like to connect with our clients and always offer to speak with them over the phone and/or meet with them in person. Making that connection is important and if they're good, they'll happily invite you to listen to them live. Recently, we invited clients to come to a local wedding fair that we were playing at so they could listen to specific pieces and meet with us directly and see how we perform. This is always worth asking about too.
---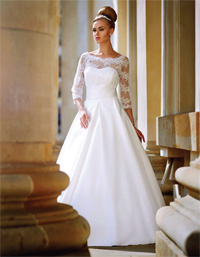 Dress to impress
Q. I'd love a wow-factor wedding gown but worry that I just don't have the budget for it. Can you give me any advice about finding the perfect dress at the right price?
A. Maddie Orlando says: Every bride is entitled to look and feel amazing on her wedding day and nowadays finding a show-stopping dress certainly doesn't have to break the budget. Before you head to websites offering designer dresses at silly prices, try visiting your local boutiques where you can actually see and try on the gowns. There are many collections now available, sometimes with dresses from as little as £200, which can rival more expensive designs in terms of style and fit. Usually a gown without detail such as lace and elaborate beadwork will cost less, and should you wish, you can customise a simple dress with embellishments, sashes and beaded appliqués to create your own look and to keep costs down.

Another great option is to head for the sample sales as there are some genuine bargains to be had. Quite often you can find dresses with huge discounts that have never even been tried on. Again, there are many options to alter the style of a dress by adding straps, boleros and accessories to create the wow factor. For instance, the one shown is available from approximately £280 and is available with or without the bolero.
---
Contact our experts...

Claire Cole
Venue stylist

Julia Roberts
Musician

Maddie Orlando
Bridal boutique owner

Nic Morgan
Videographer
---