Ask the experts
Here is a selection of Q&As from Your Berks, Bucks and Oxon Wedding magazine. If you would like your question answered by our experts, please email it to editor@yourberksbucksoxon.wedding.
To view more Q&A's on a different topic, please select one from the list below.
Hot topic: Keeping friends and family happy
Our local experts advise on how to involve your nearest and dearest while keeping it professional
---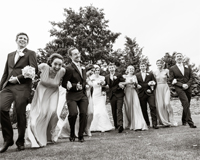 In the picture
Q. We want our wedding photos to be modern and informal, but various relatives favour a more traditional approach. How can we satisfy everyone?
A. David Bostock says: This is a topic that often comes up and is more difficult when parents are paying for the wedding. The couple might feel under pressure to satisfy everyone while really, they want informal, candid and more natural photos. It's further compounded by the fact that often there's only an hour or so for the champagne reception and the group shots can take up almost all the time available. One of the best ways to include everyone is to opt for a large group shot of everyone at the wedding perhaps taken just before the wedding breakfast and usually from an elevated position. This makes everyone feel included. My advice is to chat to the main stakeholders (generally the close family members) and explain and show them the sort of images you really want. As family groups are an important record at any wedding, my advice is to have no more than six formal set-ups, as follows: brides' parents and siblings/partners, grooms' parents and siblings/partners; the bridal party including bridesmaids/flowergirls and ushers/ pageboys; groom with the groomsmen; bride with the hens and the large group of everyone. This is a great place to start and you can add in any must-have extras such as grandparents or other key family members.
---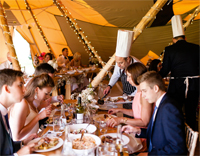 Just enough cooks
Q. I want my wedding breakfast to be a sit-down meal with a table plan but I want it to be relaxed and fun – any suggestions for helping people to bond?
A. Ben Freeman says: We love our 'head of table' wedding breakfasts whereby a guest per table is chosen to essentially 'be mum' and serve the meat. Of course this special role requires a special chef's hat and apron. Our waiting staff serve all the yummy accompaniments to complement the dish. We love watching the guests (some of which have never met before) giggling and getting to know each other through the love of the food.
---
Move over, darling
Q. We're looking for a fun and funky way to involve all our loved ones in making our day extra-special. Any suggestions?
A. Andrew Gleed says: Our vintage wall is an alternative version of a photo booth and is a great way to break the ice between guests and have fun. It looks quite sophisticated and differs from the more plastic-looking enclosed booth, being made of wood, and suiting most venues. Along with the metal half birdcage, large frames to peek through, plus the small vintage-inspired photos in frames decorating the front of the wall, there's space for people to sit or stand in front and a dado rail and wood-look wallpaper. Quite a group can gather for photos and plenty of props are available (silly wigs, hats and signs, plus more sophisticated vintage head attire, such as feather boas). Also the photos on the wall can be personalised, showing loved ones that are special to the couple or aren't able to attend the wedding.
---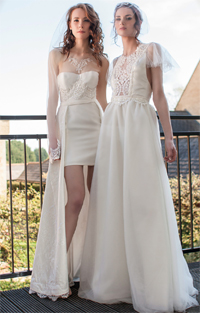 Pick a number
Q. Loads of friends and family have offered to help me find the one, but what's a good number of people for wedding dress shopping?
A. Rasha says: The answer to this question will differ from one bride to another. However, you should always try to choose quality over quantity. This is a very special day for you and it's far more important to surround yourself with people who understand your vision and ones who will support you in finding your perfect dress.

Getting advice from your closest friends and family is important as they'll know you and will help keep you focused in your search, which is why a large group may sometimes cause confusion more than help.

Once you decide on how you'd like to look on your wedding day, share these ideas with your entourage so that they share your vision and can guide you.

Whether you choose to shop for your dress or have a bespoke design created for you, it's important to remember that getting your right dress should be an enjoyable experience and your loved ones will play a part in making it special for you, so choose those who you know will support you and who you'll have a fab day out with.
---
Contact our experts...

Andrew Gleed
Photographer

Ben Freeman
Wedding caterer

David Bostock
Photography

Rasha
Couture bridalwear designer
---